Our traditional Italian pizza dough recipe creates the perfect base for your delicious pizzas.
After years spent perfecting our formula, we now have the best authentic pizza dough you can find in Melbourne. Our recipe features the usual suspects – water, flour, yeast, salt, sugar and extra virgin olive oil – but with a little added secret ingredient. We'd love to tell you what it is but where's the fun in that? You'll just have to come and try it for yourself.
Like all of our recipes, we also have gluten free pizza bases available that are just as delicious as our traditional dough. While we don't make these from scratch in-house, we procure only the finest ingredients for all our pizzas—including our gluten free bases. You'll still be able to enjoy that authentic Italian goodness, without having to compromise on your dietary requirements. If you're extremely allergic to gluten, please keep in mind there is a chance of cross-contamination in our ovens.
Our pizzas are the perfect combination of fresh and high quality ingredients, juicy pizza sauce, our authentic pizza dough and lots of love and care from our chefs.
Out top tip for the perfect pizza dough? Mix it in a custom-made dough mixer until perfectly smooth.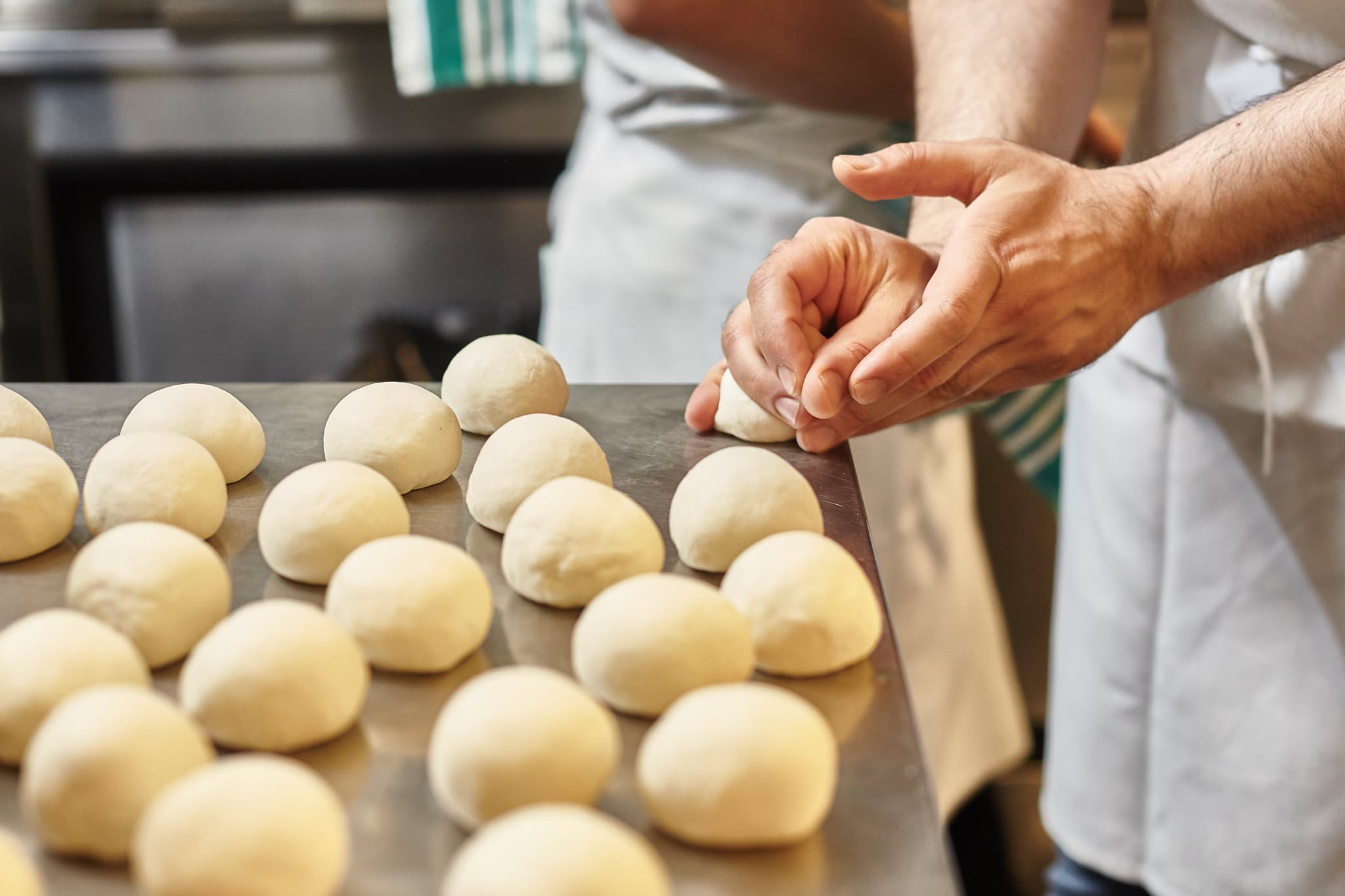 About Our Little Collins Street Restaurant
A favourite of locals, our restaurant is conveniently located right in the heart of Melbourne. We have regulars throughout the city and beyond who stop by every day to fill their bellies with our delicious and authentic Italian handcrafted pizzas, calzones, focaccias and more.
Whether you want to stay in and keep warm or venture to Little Collins Street and dine with us, we have a wide range of options available. Only have a quick lunch break? Order ahead and take the pizzas back to the office. A little more time on your hands? Bring some drinks, some friends and eat to your heart's desire.
About 11 Inch Pizza Restaurant
11 Inch Pizza was born out of a love for authentic Italian recipes and a need to share them with everyone and anyone! One of our main goals is to provide delicious food to all, no matter what dietary requirements you might have. That's why we offer a range of gluten, dairy and meat free options alongside our traditional recipes.
We are a customer-driven restaurant, and your satisfaction is what's most important to us. Good food, good times and even better service are what we stand for. If you have been looking for a great pizza place in Melbourne that is sure to impress then you've found it!
If our loyal fanbase is anything to go by, 11 Inch Pizza is definitely the best place to enjoy great Italian food. Every part of our recipes is carefully thought out, from the pizza dough to the toppings, with you in mind.
Get In Touch With Us Today
Curious about our pizza sauces and what to try them for yourself?
You can:
Visit us at 7A/353 Little Collins Street, Melbourne VIC 3000.
We're open from 11am to 9:30pm on weekdays, 5pm to 9:30pm on Saturday and 5pm – 9pm Sunday.
Please note, from 2:30PM – 5PM and for 30 minutes before close, we only offer takeaway and delivery.