Looking for Pizza near North Melbourne? You'll be happy to know that you can enjoy incredible dine in pizza just a short trip away at Little Collins Street, or you can have our entire range delivered to the comfort of your own home.
You'll love 11 Inch Pizza's unrivalled commitment to quality. This commitment is shown in choosing the best ingredients, ensuring every element is homemade and using techniques that have been passed down through generation to spin the perfect base. The people of North Melbourne deserve an incredible pizza experience and we really do have the best pizza in Melbourne.
How to Order Delivery in North Melbourne
We deliver to parts of North Melbourne and surrounding suburbs, please see our delivery zone map for other locations. For areas included in this zone, you can order directly through 11 Inch via our online ordering platform.
If you are located outside of our delivery zone, please check Uber Eats.
Prefer to dine in or take away? Come visit us at 7A/353 Little Collins Street, Melbourne.
Delivery Times
Monday: 11am-9pm
Tuesday: 11am-9pm
Wednesday: 11am-9pm
Thursday: 11am-9pm
Friday: 11am-9pm
Saturday: 5pm-9pm
Sunday: 5pm-8.30pm
Delivery Costs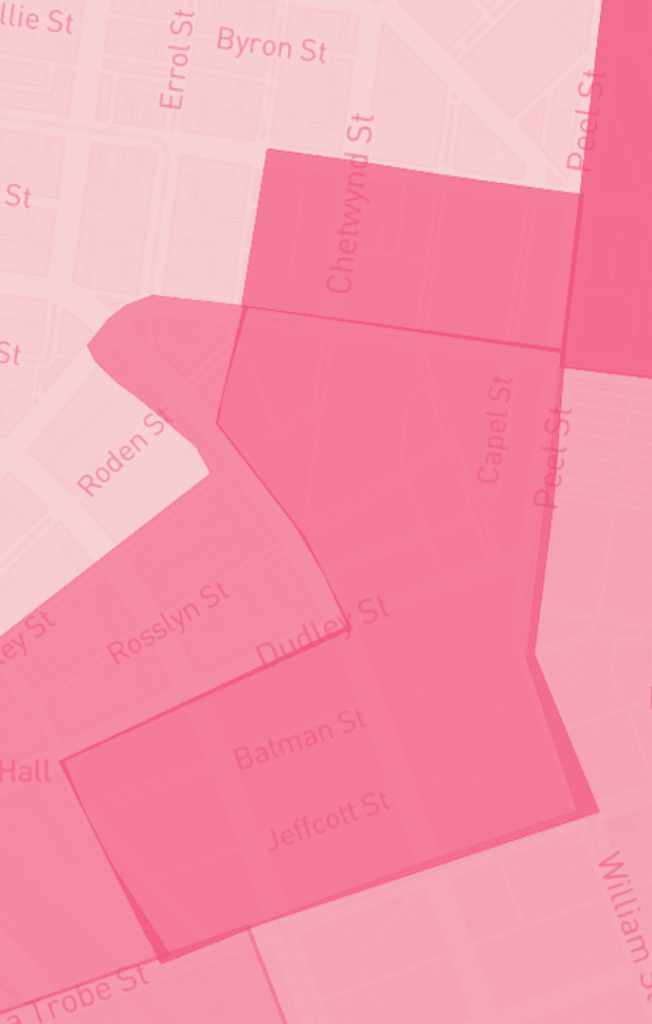 About Our Little Collins Street Restaurant
You'll love your visit to Little Collins Street. It's always been at the epicentre of the Melbourne dining experience and our restaurant slots in seamlessly. Melbourne is famous for good pizza, and North Melbourne has contributed enormously to that reputation. We encourage you to make the short trip into town and sample our contribution.
In addition to dine in, you can also enjoy our pizza as a catering or takeaway option in North Melbourne. We have a huge range, and everything is handcrafted, from our pizzas and calzones, to our range of focaccias, salads and of course, dessert pizzas.
Here at 11 Inch Pizza, we understand that everyone has unique tastes and needs. We cater to all dietary requirements, and you'll find options that are:
Our lactose-free vegan cheese and gluten-free bases allow us to offer pizza to everybody. Pizza has always been the food of the people, and we believe that everyone should be able to enjoy this incredible food.
Pizza always tastes better with a drink, and as a licensed venue, we offer a massive range of beer and wine. If you'd like to bring your own, we only charge $3 per person for BYO!
You can view our extensive food and beverages menu online.
About 11 Inch Pizza Restaurant Near North Melbourne
We always put you first, because that's the only way we can succeed. It's not about cheap eats, trending flavours or a 10-page menu, it's about quality pizza that is meant to be enjoyed with family, friends and loved ones. Every visit and every bite should be memorable, and we want to offer consistency in quality, so you know exactly where to go when you want great pizza.
Get In Touch With Us Today
Visiting us, or getting in touch couldn't be easier. You can:
Visit us at 7A/353 Little Collins Street, Melbourne VIC 3000.
We're open from 11am to 9:30pm on weekdays, 5pm to 9:30pm on Saturday and 5pm – 9pm Sunday.