11 Inch Pizza has a simple mission – to create the best pizza restaurant pizza experience in Melbourne. We do this through our passion for pizza, our passion for good food and our love for the beautiful city we call home – Melbourne. People come from all over the world to try the culinary delights we have to offer, and with every spoonful of homemade sauce and every saucer of hand kneaded and shaped dough we live up to that reputation.
How to Order Delivery in  Melbourne
We deliver to parts of Melbourne and surrounding suburbs, please see our delivery zone map for other locations. For areas included in this zone, you can order directly through 11 Inch via our online ordering platform.
If you are located outside of our Melbourne delivery zone, please check Uber Eats.
Prefer to dine in or take away? Come visit us at 7A/353 Little Collins Street, Melbourne.
Delivery Times
Monday: 11am-9pm
Tuesday: 11am-9pm
Wednesday: 11am-9pm
Thursday: 11am-9pm
Friday: 11am-9pm
Saturday: 5pm-9pm
Sunday: 5pm-8.30pm
Delivery Costs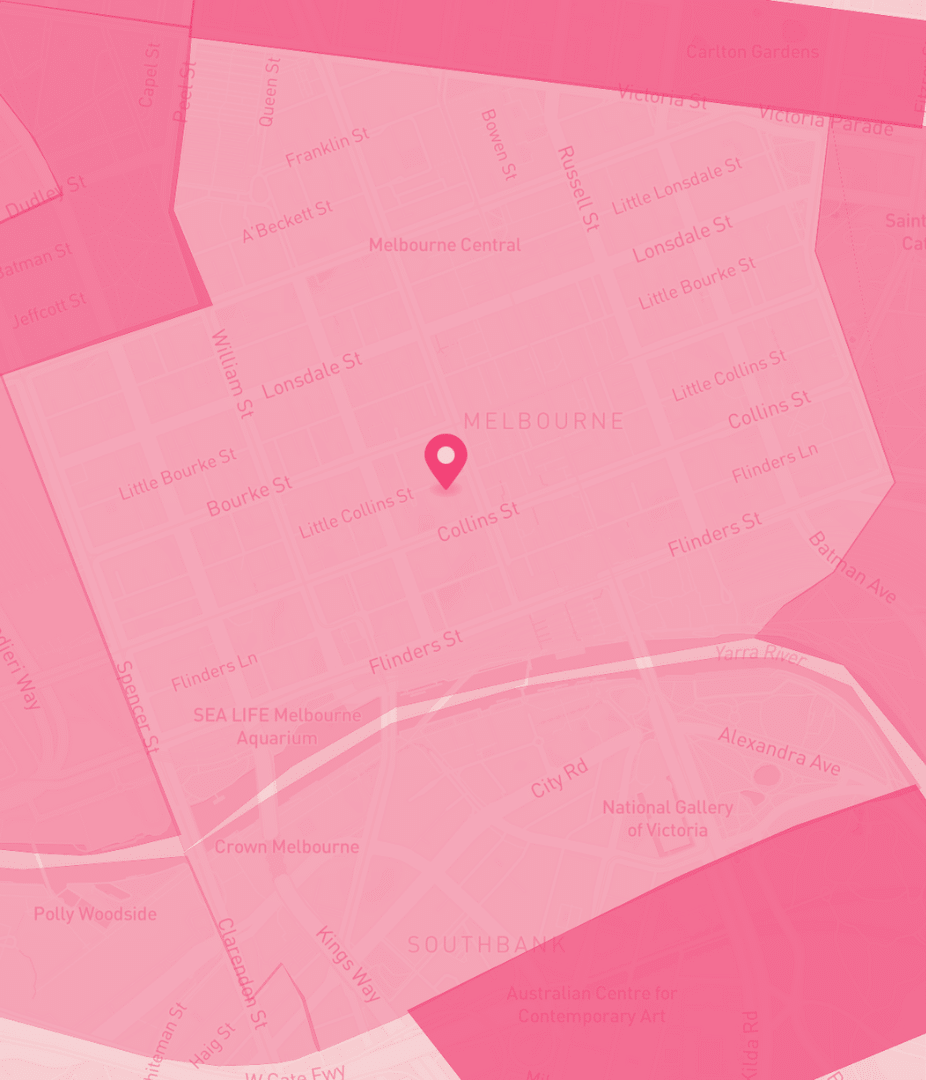 About Our Little Collins Street Restaurant
Our restaurant on the iconic Little Collins Street offers the best pizza and Italian dining experience in Melbourne. We provide a full dine-in, takeaway and even catering experience. We create handcrafted classics, calzones, focaccias, as well as a range of tasty salads and naughty sweet pizzas.
Our vision is to make every single person in this big, bustling city happy. Pizza is the food of the people, and that's why we make ours suitable for all dietary requirements, including:
We offer gluten-free dough, and our lactose-free vegan cheese means you can enjoy all that stringy goodness.
We're a licensed venue, take a look through our extensive food and beverages menu, you'll find something to get excited about.
About 11 Inch Pizza Restaurant Melbourne
All things we genuinely care about and value begin and end with you – the customer. It's not just about making the perfect pizza, it's about crafting the complete experience, whether you're dining in with us or enjoying our range from the comfort of your own home we work hard to deliver something unforgettable.
Why do we do this?
Because, we believe that a good dining experience brings happiness and that's what we want to bring to Melbourne. Good food brings family and friends together, and it can solve any problem. We make our pizzas with passion, so you get that wonderful feeling of post-meal happiness.
Get In Touch With Us Today
Visiting us, or getting in touch couldn't be easier. You can:
Visit us at 7A/353 Little Collins Street, Melbourne VIC 3000.
We're open from 11am to 9:30pm on weekdays, 5pm to 9:30pm on Saturday and 5pm – 9pm Sunday.