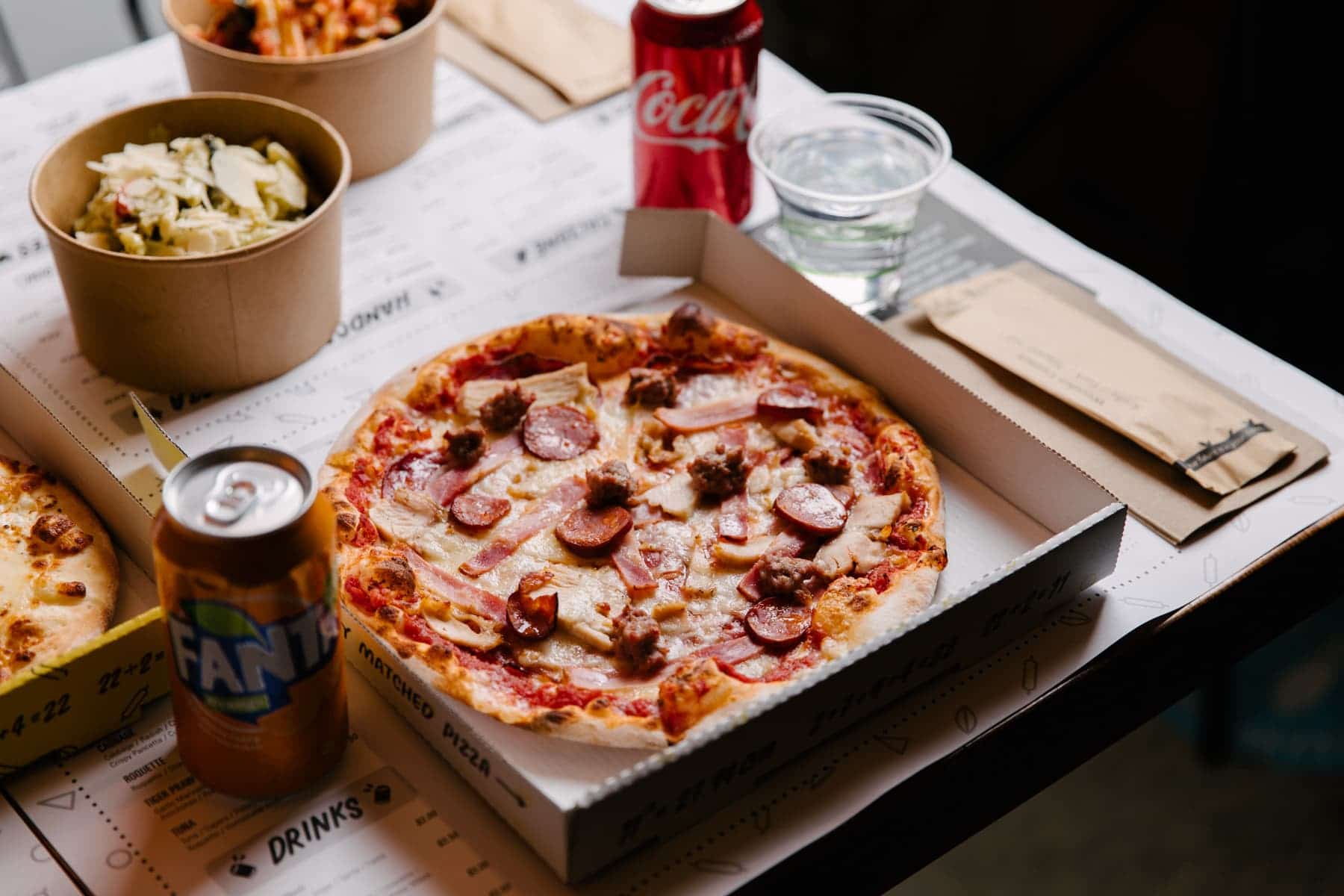 Both pizza and salami originated in Italy, proving that the Italians know what they're doing when it comes to creating flavours that are to die for. At 11 Inch Pizza, our hot salami pizza is no exception.
To make this pizza salame, a hand-kneaded and rolled pizza base is topped with mozzarella, olives, mushroom and Italian salami, which combines to create a sharp blend of flavours with a spicy kick.
For the gluten-free, lactose-free, vegetarians or vegans among us, don't worry – we've got you covered too. We offer meat and animal product-free options so that everyone can enjoy our pizzas.
ABOUT OUR LITTLE COLLINS STREET RESTAURANT
Our Little Collins Street restaurant is one of Melbourne CBD's hidden alleyway gems. The reputation of our gourmet, high-quality pizzas has made us a favourite among Melburnians looking to treat themselves to an authentic Italian meal. Whether you're after a satisfying dining experience or a delicious, restaurant-quality meal delivered to your home, 11 Inch Pizza has you covered. For information about delivery rates to your suburb, please see our online ordering platform.
Don't forget, pizza is not all we do! We recommend trying our delicious salads focaccias and calzones next time you dine with us. We also have an array of drinks on our menu to choose from too.
ABOUT 11 INCH PIZZA
When you've been making pizzas for as long as we have, it's clear there is immeasurable passion driving our business. We believe prioritising quality is always the most important goal. Without going the extra mile by hand-kneading and rolling our dough, making our sauce in-house and striving for perfection with every pizza we make, we would not have the reputation for delectable, authentic pizza that we do.
We want the love we pour into every inch of pizza to be tasted and appreciated so you keep coming back for more.
GET IN TOUCH TODAY
Next time you're craving the best spicy salami pizza Melbourne can offer, get in touch:
Visit us at 7A/353 Little Collins Street, Melbourne VIC 3000.
We're open from 11am to 9:30pm on weekdays, 5pm to 9:30pm on Saturday and 5pm – 9pm Sunday.
Please note, from 2:30PM – 5PM and for 30 minutes before close, we only offer takeaway and delivery.