Get your gang together – it's time for movie night!
Everyone knows that the best movies nights are accompanied by the best movie night snacks. Sweet and savoury, substantial and super light… it's important that your snack collection offers something for everyone.
We've compiled the ultimate list of movie night snacks to help you plan for your big night in.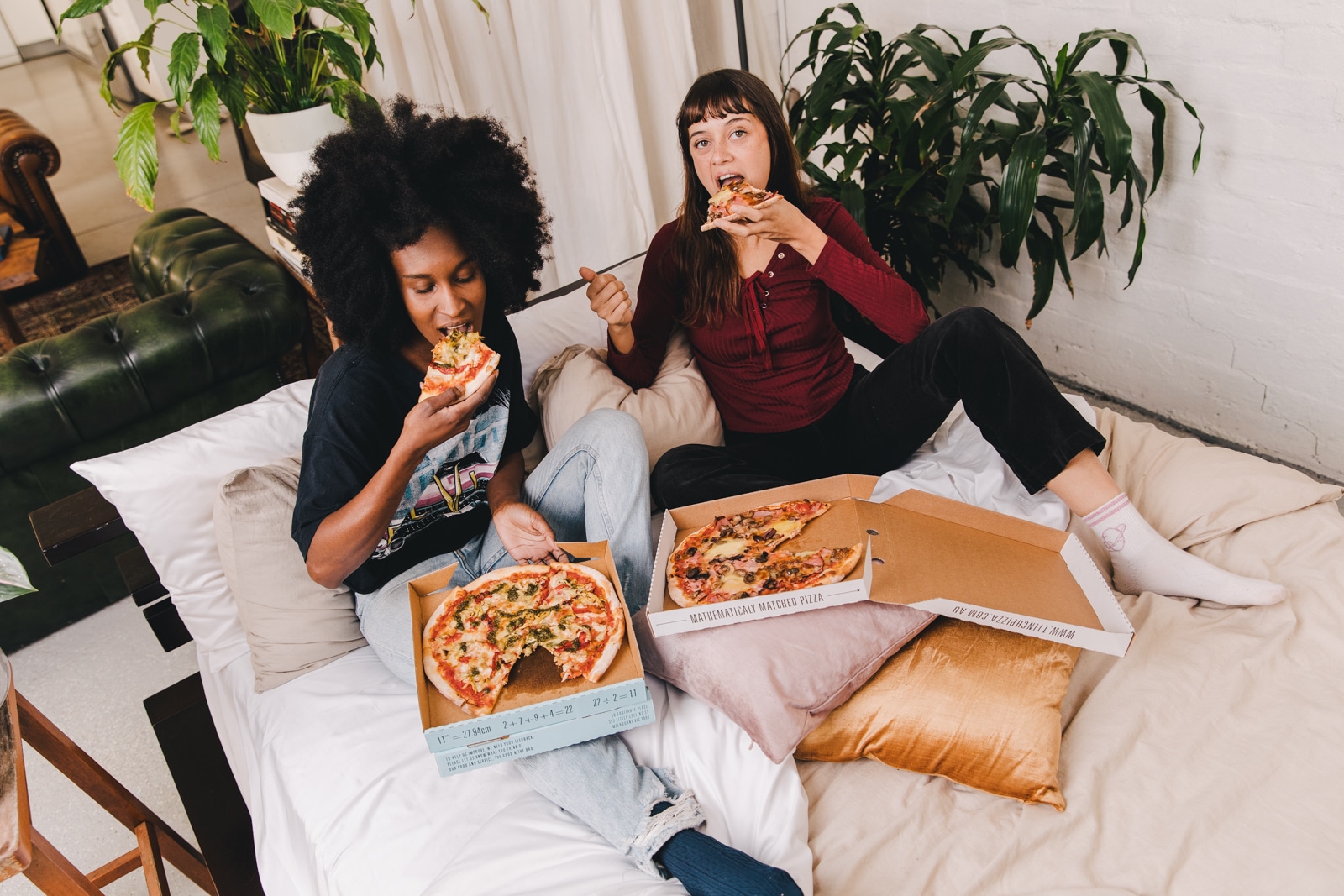 Pizza
It's hard to go past pizza when choosing the perfect meal for movie night. This ultimate crowd pleaser is simple, delicious, and can be delivered right to your door!
Pizza is great for feeding a group because it allows everyone to share slices, meaning you can try a bit of multiple flavours. It's easy to eat with your hands, so you can stay glued to the screen and not miss a moment of the action while you're mucking around with knives and forks.
Plus, even if your friends have dietary requirements, pizza works for them! You can easily order vegetarian, vegan and gluten-free options Gluten Free Base (base will contain small amounts of gluten) to keep everyone happy. Always order more than you think you need – pizza tastes great even the morning after movie night!
Popcorn
A cinema favourite and synonymous with watching movies, popcorn is a must have on your movie night snack list! Popcorn is best enjoyed eaten hot out of the microwave and shared in a big bowl – and yes, some will always end up between the couch cushions!
If you're feeling adventurous, you can mix up the classic buttery popcorn with different flavours. Savoury lovers will enjoy cheesy and garlic varieties. For the sweet tooth, you can create popcorn with peanut butter, marshmallow, caramel, chocolate and even cookies and cream!
Hot Chips
When it comes to "food that everyone likes", the humble hot chip comes right up there near the top of the list! Hot chips are easy, filling, and so moreish that everyone will be snacking for hours.
You can make your own hot chips at home, either in the oven, an oil fryer, or an air fryer. The key is to dry out the potatoes as much as possible for that super crunchy bite. And if you can't be bothered cooking, there are heaps of takeaway options so you can have delicious hot chips delivered!
Veggies and Dip
So you should probably eat something green at movie night, right? For a lighter option and something that won't leave you feeling sick by the closing credits, veggies and dip is a good way to go. You can play with heaps of fun dip combinations and cut up veggies into easily dippable sticks. Carrots, capsicum and zucchini are all great veg choices.
Pretzels
Salty and delicious, pretzels are a yummy snack that are a perfect addition to your movie night. It's easy to buy these ahead of time and lay them out for people to nibble on as needed. They offer a light snack for later in the evening when you don't feel like so much food but want a little hit of tasty salt.
Chicken Wings
Smothered in sticky sauce, chicken wings are an easy-to-eat and super tasty option. If you're making them at home, stick them in the oven ahead of time so they're hot and ready to enjoy when the movies start. You can also order them in if that's easier.
Make sure you have plenty of napkins on hand – chicken wings can cause sticky fingers, and you may not want those on your couch!
Brownies
Sweet lovers will always choose to have a gooey, rich brownie after the savoury food… and sometimes before it! Everyone has their own perfect brownie recipe, packed full of chocolatey goodness. But if you're not much of a baker, you can buy delicious brownies – and a range of other sweet slices – from your local bakery ahead of time.
Nachos
Perfect for sharing and great for feeding hungry people, nachos is cheap to make and amazing to eat! Start with a big packet of corn chips and choose where you go from there. Most people will opt for gooey melted cheese, tangy tomato salsa, sour cream and guacamole. But when it comes to nachos, you can add whatever you'd like! Make sure you put it in the oven before you want to eat it for that oozy cheese to melt over all the chips.
MnMs
Totally snackable and completely addictive – these coloured chocolate treats are a great addition to your movie night snack selection. Not only do they look fun, they offer that sweet crunch and the delicious chocolate inside! Perfect for a light sweet treat towards the end of the night.
Punch
The perfect movie night isn't complete without a delicious drink to wash down all your snacks! Punch can be made with or without alcohol, so whether you're having an adults-only evening or not, you can enjoy this fruity mix. Make up a big bowl and enjoy sharing it throughout the evening!