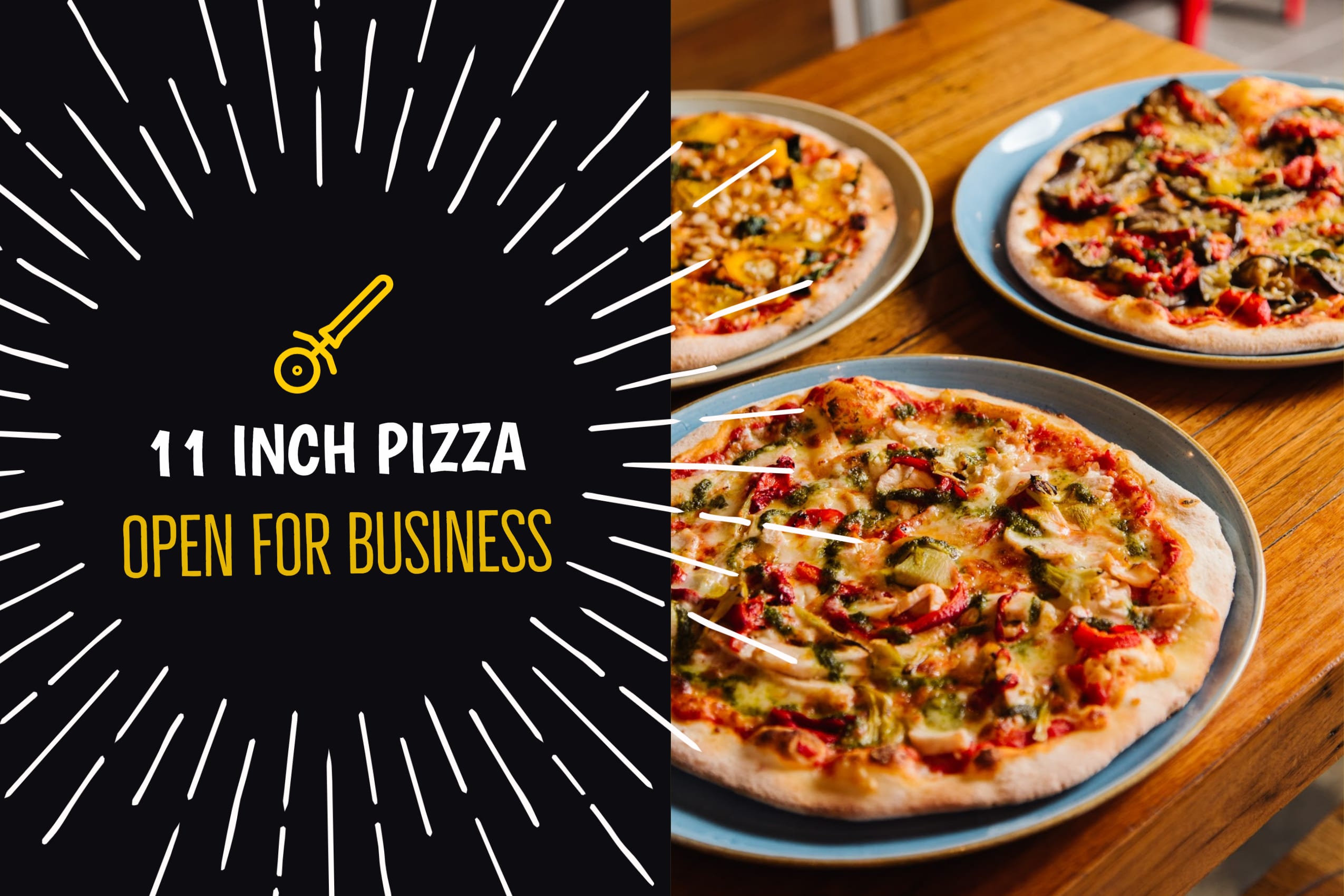 Although Melbourne will be enforcing Stage 3 lockdown for at least six weeks as of midnight, 8 July 2020, 11 Inch Pizza is still open for business.
However, these reinstated restrictions mean that we will be reverting to takeaway and delivery options only; for the time being, we will not be able to have patrons dine-in at the 11 Inch Pizza restaurant.
The health and safety of our customers, as well as our staff and the wider community, is – and always has been – our top priority, which is why we will be strictly adhering to all lockdown and social distancing requirements, as well as continuing to maintain our incredibly rigorous hygiene and cleaning practices.
Our Hygiene Practices
11 Inch Pizza has always upheld incredibly strict hygiene and cleanliness standards. We understand the importance of food safety and go to great lengths to ensure the health and safety of everyone who enters our restaurant or consumes our products.
However, on top of these already-rigorous practices, we have introduced further precautions to prevent the spread of COVID-19, including:
Increased frequency of our incredibly thorough cleaning and sanitisation practices, including the wiping down of surfaces
Increased use of hand sanitiser and disinfectants
All staff have been strictly advised to uphold excellent personal hygiene standards and are provided with the facilities to do so
Any staff who are sick, display symptoms, or have been in contact with a confirmed case of COVID-19 are not to come to work
Food Handling Practices
We will carefully continue to uphold our safe and clean food handling practices. We have always prepared all our dishes whilst wearing gloves and continue to do so.
Additionally, all of our pizzas are cooked in a 280ºC oven – which is a high enough heat to kill all bacteria and viruses. After being cooked, the pizzas are not handled by human hands during the packaging and delivery stages.
Contact Free Deliveries
In order to ensure that all of our deliveries are safe, for both our customers and staff, we offer contact-free deliveries by request. If you would like to opt for a Contact Free Delivery, please inform us of this when you place your order in the 'Delivery Instructions'. By completely eradicating contact during deliveries, the potential to spread the virus is mitigated – especially for our customers who are self-isolating.
Pick Up Orders
While 11 Inch Pizza is taking extra precautions to help ensure the health and safety of our patrons as well as our staff and the wider community, we also rely on the cooperation of our customers to, as much as possible, mitigate the potential spread of the virus.
As such, we request that anyone who is picking up their order from our restaurant practice social distancing by maintaining at least 1.5m distance from any other customers and staff. To enable this, we are limiting the number of customers allowed into the restaurant to order at a given time. Additionally, we ask that anyone waiting for their order do so outside of the restaurant premises.
If you are sick, display any symptoms, or are confirmed to have COVID-19, we also ask that you abide by self-isolation practices and refrain from coming into our store.
This is a difficult time for us all and we would like to thank you for your understanding, patience and support as the situation continues to unfold.