Are you dreaming of a pizza made with fresh, hand-kneaded dough topped with succulent chicken and a delightfully tangy, sticky barbecue sauce? Look no further! At 11 Inch, our homemade BBQ chicken pizza is the best of its kind in Melbourne, thanks to its finest quality, fresh ingredients and the years of experience our chefs have had making excellent pizzas.
11 Inch's commitment to making every pizza we serve better than the last is what makes us the best. Our BBQ Chook Pizza tastes like heaven with its tantalising aioli, red onions, mushroom and, to tie all the flavours together, delectable mozzarella. We also have a Pollo Pizza, complete with chicken, artichokes, red capsicum, pesto and provolone.
We don't want anyone to miss out on our mouth-watering BBQ chicken supreme, so we've made sure we can cater for a range of dietary requirements. With a variety of options for making our pizzas meat and animal-product free, there is no reason not to choose 11 Inch for all your pizza-craving needs.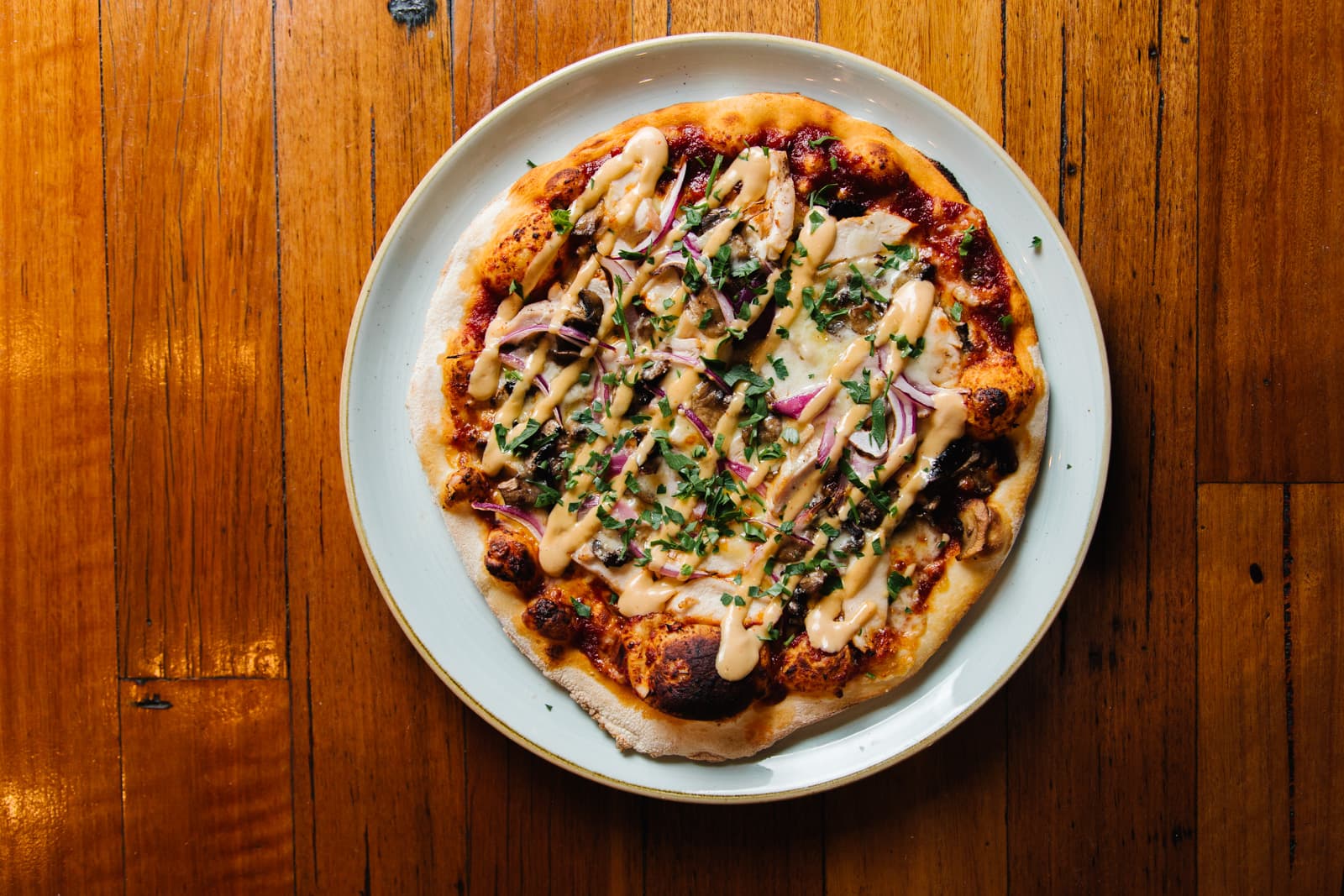 ABOUT OUR LITTLE COLLINS STREET RESTAURANT
Despite our unassuming location, tucked down a small alleyway off Little Collins Street, our reputation has brought thousands of Melburnians through the door to try some of the city's best pizza for themselves. Whether it's the smell of oven-baked pizzas or the friendliness of our staff, it's hard not to be drawn into our cosy and inviting restaurant.
11 Inch Pizza has been making appetising and authentic Italian food for years. If all you've tried so far is our pizzas, we recommend trying our flavoursome salads, pastas, calzones or focaccias on your next visit. We have a selection of beers, wines and non-alcoholic beverages on our menu.
ABOUT 11 INCH PIZZA
There is no shortage of care or passion that goes into our pizza-making at 11 Inch. We pride ourselves on never cutting corners and instead hand-kneading and tossing our dough, sourcing only the finest ingredients and making our sauces in house.
Our loyal customer base proves that the care and effort we put into each pizza can be tasted on the other end.
GET IN TOUCH TODAY
For the best tangy barbecue chicken pizza Melbourne can offer, get in touch today:
Visit us at 7A/353 Little Collins Street, Melbourne VIC 3000.
We're open from 11am to 9:30pm on weekdays, 5pm to 9:30pm on Saturday and 5pm – 9pm Sunday.