Does dairy upset your stomach? Do you prefer a dairy free pizza?
More than half the world's population has some degree of lactose intolerance, and all of us have our own limit on how much dairy we can consume! Luckily, for those of us who are a bit more intolerant than others, 11 Inch Pizza offers a delicious lactose free cheese to replace regular cheese on our pizzas!
Our lactose free cheese is so good, you will think you're eating the real thing. It includes the enzyme that our bodies use to break down lactose so that you can eat it without the upset tummy later.
So enjoy as much gooey, cheesy pizza as you want – with no regrets!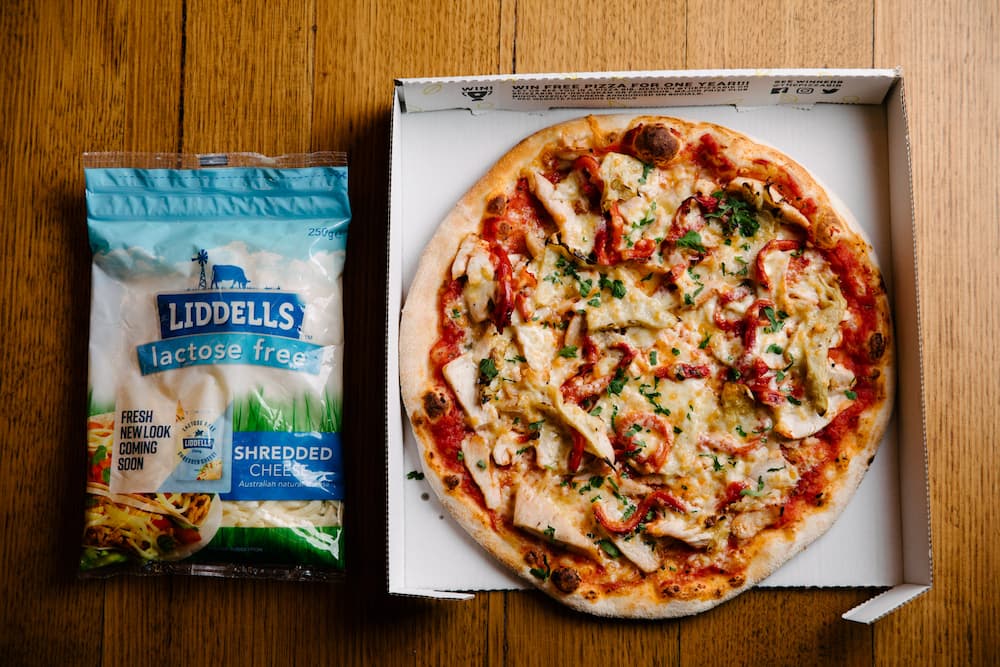 About Our Little Collins Street Restaurant
When it comes to enjoying a delicious pizza without the dairy complications, you can't go past our Melbourne CBD restaurant. No matter what your dietary requirements are, we welcome everyone into our cosy laneway spot on Little Collins Street. Visit us for a pizza lunch, a night out with friends, or a leisurely weekend meal.
Prefer to chow down on your lactose free cheese pizza at home? You can order online and pick up our delicious pizzas whenever suits you. And if you have live nearby, we will even deliver your pizza piping hot straight to your door!
About 11 Inch Pizza Melbourne
Our experienced team are the experts in making delicious pizzas. Every pizza is made with hand-kneaded dough, crafted with care for that perfect crispy base. We source our ingredients from the best suppliers and use local fresh produce to ensure every mouthful is a taste sensation!
We offer a pizza for everyone with our extensive menu of gourmet and classic favourites. Plus, we make a range of delicious focaccias, calzones, salads and desserts to make a full meal out of every pizza dinner. And for something to wash it down, you can order from our drinks menu. Whether you are lactose intolerant, prefer gluten free (base will contain small amounts of gluten), or you are vegetarian or vegan– we cater for your needs.
Get in Touch with Us Today
Next time you're looking for the perfect dairy free pizza in Melbourne, visit us or get in touch:
Visit us at 7A/353 Little Collins Street, Melbourne VIC 3000.
We're open from 11am to 9:30pm on weekdays, 5pm to 9:30pm on Saturday and 5pm – 9pm Sunday.