For some of us, our pizza passion can come at a cost to our poor lactose intolerant tummies. But your body doesn't always have to pay the price for a cheesy feast. At 11 Inch Pizza we've cracked the code to the perfect lactose free pizza.
We've subbed out the hard stuff for a lactose free alternative that's so good it almost tops the real deal. With our lactose free cheese pizzas, you'll be free to indulge in the gooey goodness to your heart's content, free from pain or regret!
The best part? Every single one of our pizzas can be made sans lactose, just say the word!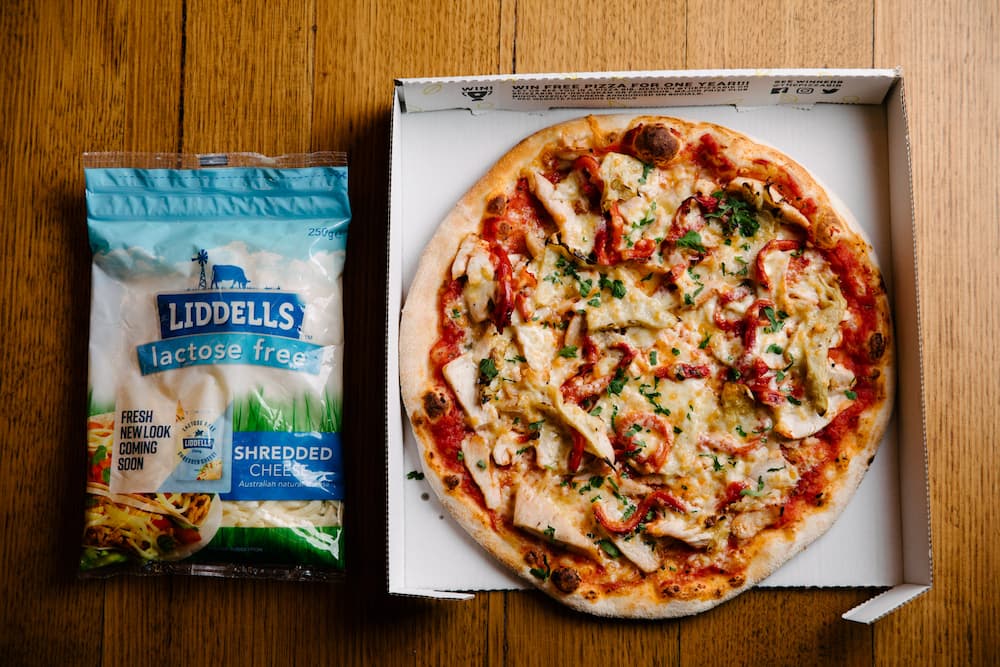 About our Little Collins Street Restaurant
We've carved out the cosiest alcove in Melbourne's CBD to bring you the beloved 11 Inch lactose free cheese pizza in ultimate class. Set in the vibrant heart of the Little Collins Street laneway, you'll smell us before you see us. The scent of crisp baked dough and authentic Italian flavours drench our humble little hideaway. Stop by for a quick lunch break treat or indulge in a date night feast to experience the sensation yourself.
Not in the mood to venture out for your lactose free delight? We can deliver the goods right to your door. Order online or just give us a buzz!
About 11 Inch Pizza Melbourne
It might finish with a deceptively delicious lactose-free cheese, but the real magic of our 11 Inch Pizzas starts at the base. We hand knead the softest dough and top it with nothing but the finest local produce we can get our hands on. The result? A crisp flavour infusion that sets those tastebuds singing from the first bite.
It's not just lactose free pizza that we've nailed. We've got Melbourne's most delectable range of salads, calzones, focaccias and desserts that are bound to entice the entire gang in for a cheeky bite.
From the vegos to the vegans, to the gluten intolerants and the dairy ditches – our menu can be adapted to suit whatever your needs may be.
Get In Touch With Us Today
Next time you're on the hunt for that dreamy lactose free cheese pizza in Melbourne, there's only one call you need to make:
Visit us at 7A/353 Little Collins Street, Melbourne VIC 3000.
We're open from 11am to 9:30pm on weekdays, 5pm to 9:30pm on Saturday and 5pm – 9pm Sunday.
Please note, from 2:30PM – 5PM and for 30 minutes before close, we only offer takeaway and delivery.