Do you love creamy ricotta cheese pizza? This tasty cheese is delicious on a fresh gourmet pizza, adding a light and cheesy touch to any flavour combination.
Ricotta is a soft cheese made from the whey left over from the production of other types of cheese. It can be made using cow, goat, sheep or Italian water buffalo milk. Ricotta is a traditional Italian cheese that is a healthier choice than many other cheeses, because it contains less salt and fat. The texture of ricotta is light and creamy, making it perfect for use in both sweet and savoury dishes – and perfect for putting on top of your pizza!
The Ricotta pizza at 11 Inch Pizza features mozzarella, fresh ricotta mint, zucchini, caramelised onions, shaved parmesan and provolone. It's a fresh and zingy flavour combination that is delicious on its own, and you can also choose to add hot salami for some extra spice!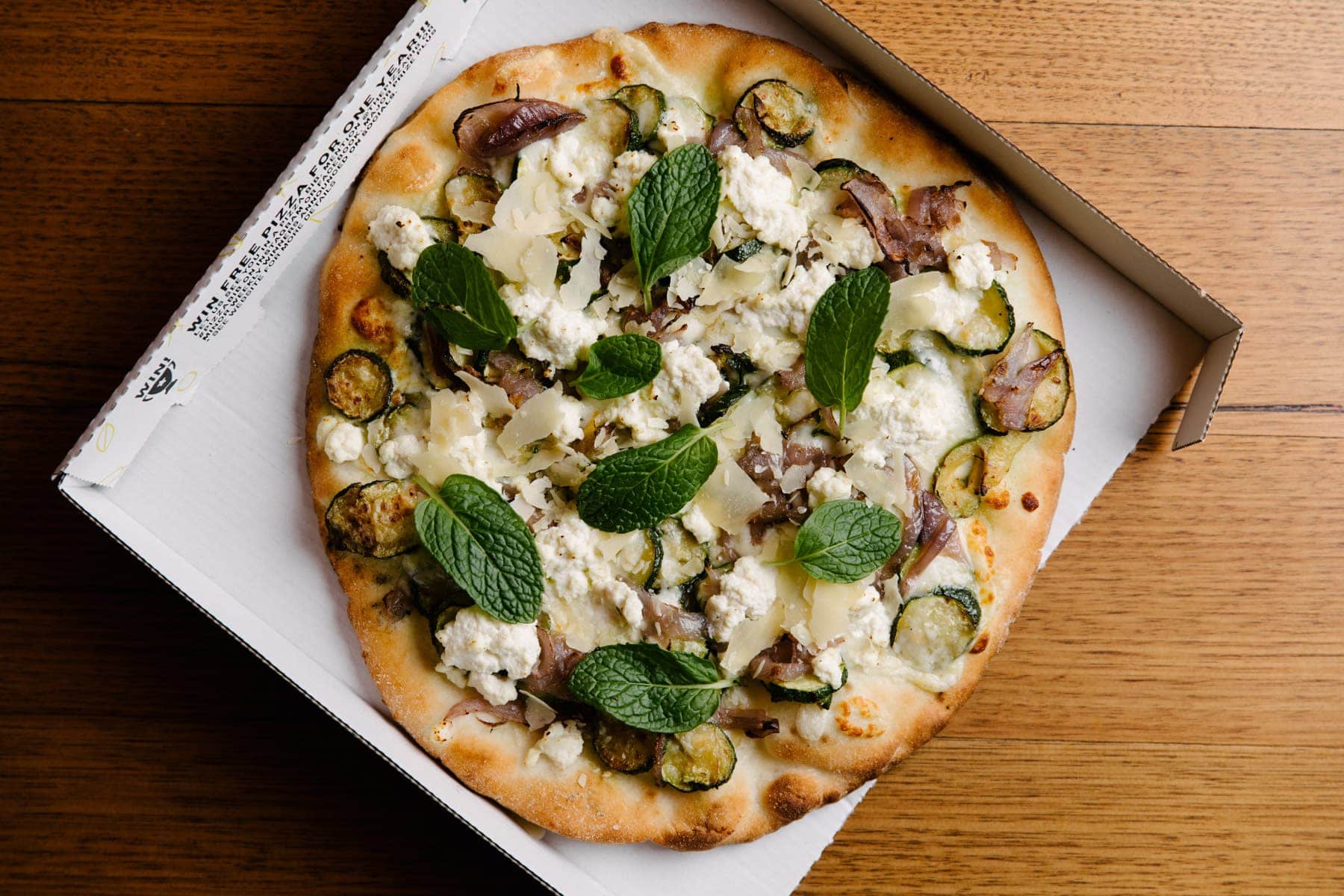 About Our Little Collins Street Restaurant
To try the best ricotta pizza in town, drop in and visit us in our cosy and welcoming Little Collins Street Restaurant. We offer dine in, takeaway and delivery so you can enjoy your pizza anywhere you please! With a central location in Melbourne CBD and a fun team to welcome you through the door, all great nights out in the city begin at 11 Inch Pizza. Bring some friends and join us for lunch or dinner, for a ricotta cheese pizza you won't forget!
About 11 Inch Pizza Restaurant Melbourne
The team at 11 Inch Pizza are committed to creating the best gourmet pizzas for our customers. We love hand-crafting delicious pizzas and developing flavour combinations that will make your tastebuds sing.
We have created an extensive menu that features everything from gourmet hand crafted pizzas, focaccias, calzones, salads to sweet dessert pizzas. We believe that pizza needs to be enjoyed by everyone, so we provide options for vegetarians, vegans, people with a gluten intolerance, and people with a lactose intolerance.
Get In Touch With Us Today
If you're looking for a delicious ricotta cheese pizza near me, then don't look any further than 11 Inch Pizza. Get in touch today.
Visit us at 7A/353 Little Collins Street, Melbourne VIC 3000.
We're open from 11am to 9:30pm on weekdays, 5pm to 9:30pm on Saturday and 5pm – 9pm Sunday.
Please note, from 2:30PM – 5PM and for 30 minutes before close, we only offer takeaway and delivery.