If you're craving yummy and filling pasta then 11 Inch Pizza has you covered.
Want something satisfying and delicious but don't feel like pizza tonight? Don't worry, we've got a great selection of pastas that are sure to please even the fussiest of eaters. Our love for authentic Italian cuisine goes beyond just pizzas with our carefully curated pasta selection.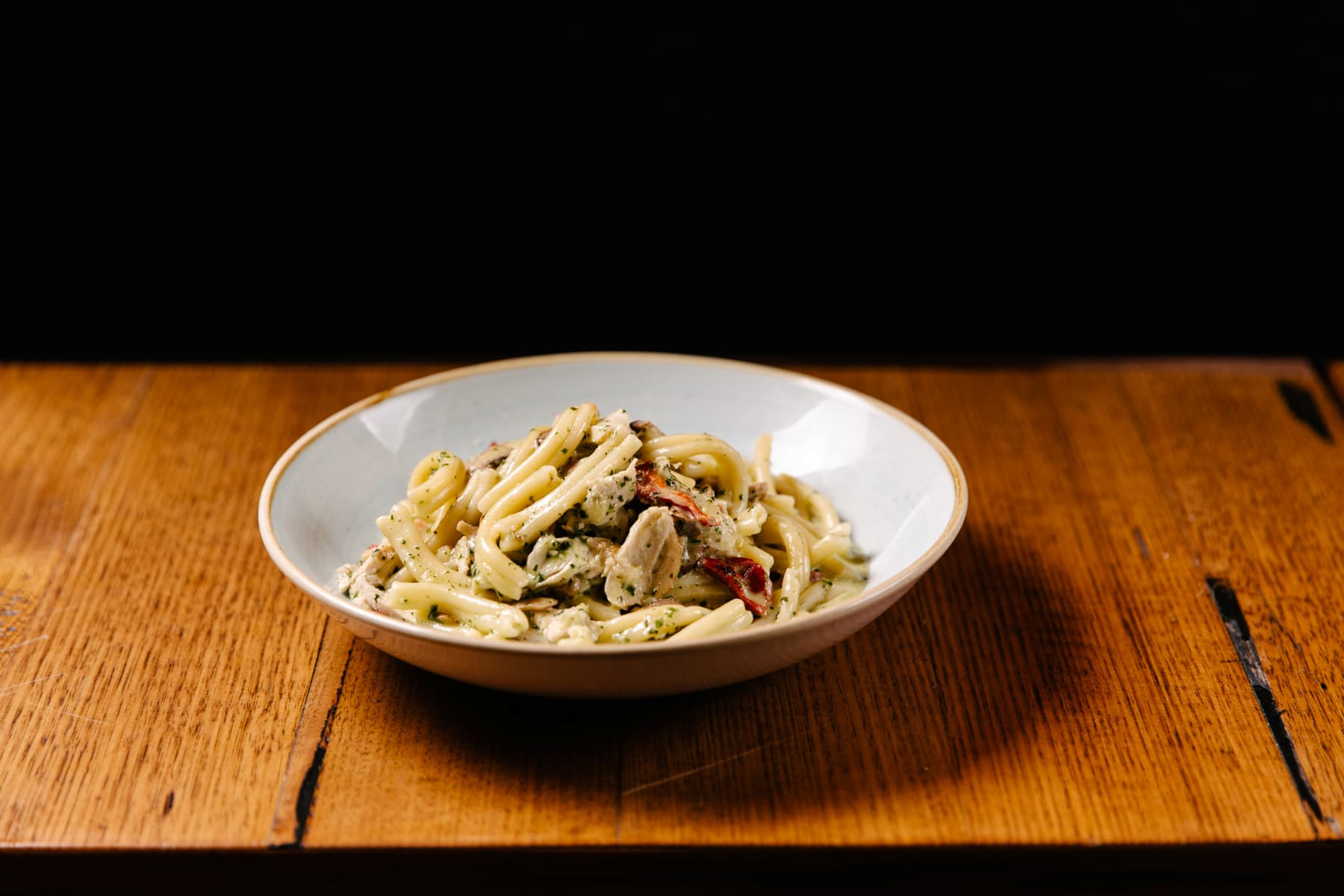 Pollo
Our crowd-favourite pollo pasta features juicy chicken breast, red capsicum, mushrooms, pesto, a hint of garlic and, of course, parmesan cheese. You can't go wrong with this classic Italian pasta dish. Have a dietary requirement? Or maybe you just aren't a fan of mushrooms? We're happy to accommodate any changes so you can really dig in to our yummy pollo pasta worry free.
Verde
One for our vegan pasta lovers, the verde pasta combines flavoursome grilled eggplant with zucchini, red onions, capsicum, basil and a hint of garlic. Extra love and care have been put into making sure our vegan customers get to enjoy our pastas without having to compromise on taste. Like always, 11 Inch Pizza is more than happy to make changes to the recipe for those of you with dietary requirements, even with our delicious vegan verde pasta.
Porchetta
We couldn't make authentic Italian pastas without including some traditional pancetta. Our porchetta dish offers scrumptious pancetta, potato, balsamic shallots, truffle oil, chilli, garlic and fresh buffalo ricotta for an explosion of flavour. With an added kick from the chilli, our porchetta pasta dish is sure to impress. Need to make any changes due to dietary requirements? Just let us know!
About 11 Inch Pizza
If you're looking for the best Italian pizzas, pastas and more in the CBD then look no further. At 11 Inch Pizza we firmly believe in food that is high quality and reflects the love and care we put into each and every dish.
We don't play around when it comes to food, and it shows in all of our pasta dishes. Each and every ingredient is selected carefully, with only the highest standard of produce used to leave you full and with a smile on your face.
We're passionate about always delivering the best pizzas and pasta every day, and our many repeat customers are proof that promise.
Get in Touch With Us Today
Visiting us, or getting in touch couldn't be easier.
You can:
We're open from 11am to 9:30pm on weekdays, 5pm to 9:30pm on Saturday and 5pm – 9pm Sunday.
Please note, from 2:30PM – 5PM and for 30 minutes before close, we only offer takeaway and delivery.