Any true pizza lover will have caught themselves pondering: 'if only there was a way to get my hands on a sweet pizza near me, right now'.
Well, you sweet-tooth fiends, your prayers have been answered.
At 11 Inch Pizza we're firm believers that pizza is a universal dish that demands to be enjoyed at all hours of the day. It's why we concocted a sweet pizza menu that'll have you drooling from the moment you lay your eyes on it.
Whether it's a late night craving, or a dessert-for-dinner kind of night – we've got a decadent sweet pizza to knock the socks off every sweet-tooth's craving.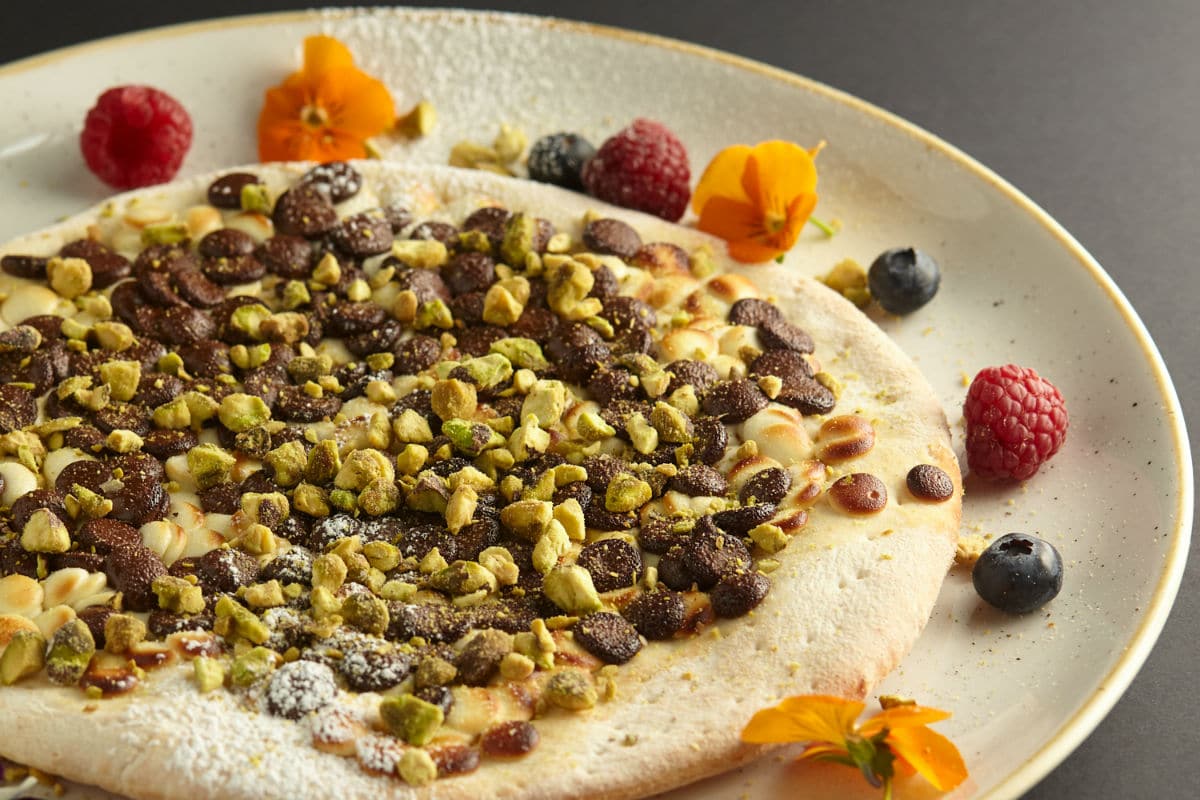 Our signature favourites include:
Hot Chocolate – a toasted doughy base topped in melted coverture chocolate and finished with a salty sprinkle of pistachios
Banana – succulent slices of caramelised banana atop a crunchy base smothered in our house-made butterscotch sauce
Calzone Dolce – a folded pizza pocket bursting with hot Nutella, creamy ricotta and the sweet tang of mixed berries
It's a dessert lover's fever dream.
About our Little Collins Street Restaurant
Where better to indulge in the delicacy of an authentic Italian delight than in the heart of Melbourne's CBD? Our 11 Inch Pizza restaurant is a cosy and relaxed hideaway, churning out Melbourne's best sweet pizzas, savoury pizzas, and every oddity in between.
It just so happens we have a pretty impressive sweet treat offering to polish off a dream night among the 11 Inch magic. From oodles of Nutella to dousing of butterscotch sauce, pick your poison and we'll work the wonders.
If you're not in the mood to front the world, we can bring the sweet pizza party to your doorstep. Each of our dishes is available for in-store pickup or delivery.
About 11 Inch Pizza Melbourne
At 11 Inch Pizza we'll never cut a corner. We use nothing but the most flavoursome ingredients to produce the quality, authentic pizzas Melbournians love.
Our sweet pizzas begin with our signature hand kneaded dough that's crisped to perfection. From there we smother them in the richest sauces and freshest fruits to hit that sweet spot in every sugar fanatic's life.
Get in Touch with Us Today
Next time you're looking for a cheap but delicious dinner in Melbourne, visit us or get in touch:
Visit us at 7A/353 Little Collins Street, Melbourne VIC 3000.
We're open from 11am to 9:30pm on weekdays, 5pm to 9:30pm on Saturday and 5pm – 9pm Sunday.
Please note, from 2:30PM – 5PM and for 30 minutes before close, we only offer takeaway and delivery.