Are you on the hunt for the best restaurants in Melbourne city? Then you're in luck. Melbourne is one of the foodie capitals of the world, offering almost any type of cuisine you can imagine. When you visit Melbourne CBD, you can find everything from exquisite fine dining to delicious cheap eats. We love our food and drink, and there is nothing that makes us hospo people happier than seeing the smile on a customer's face when they take that first bite.
So how can you find the best Melbourne restaurants?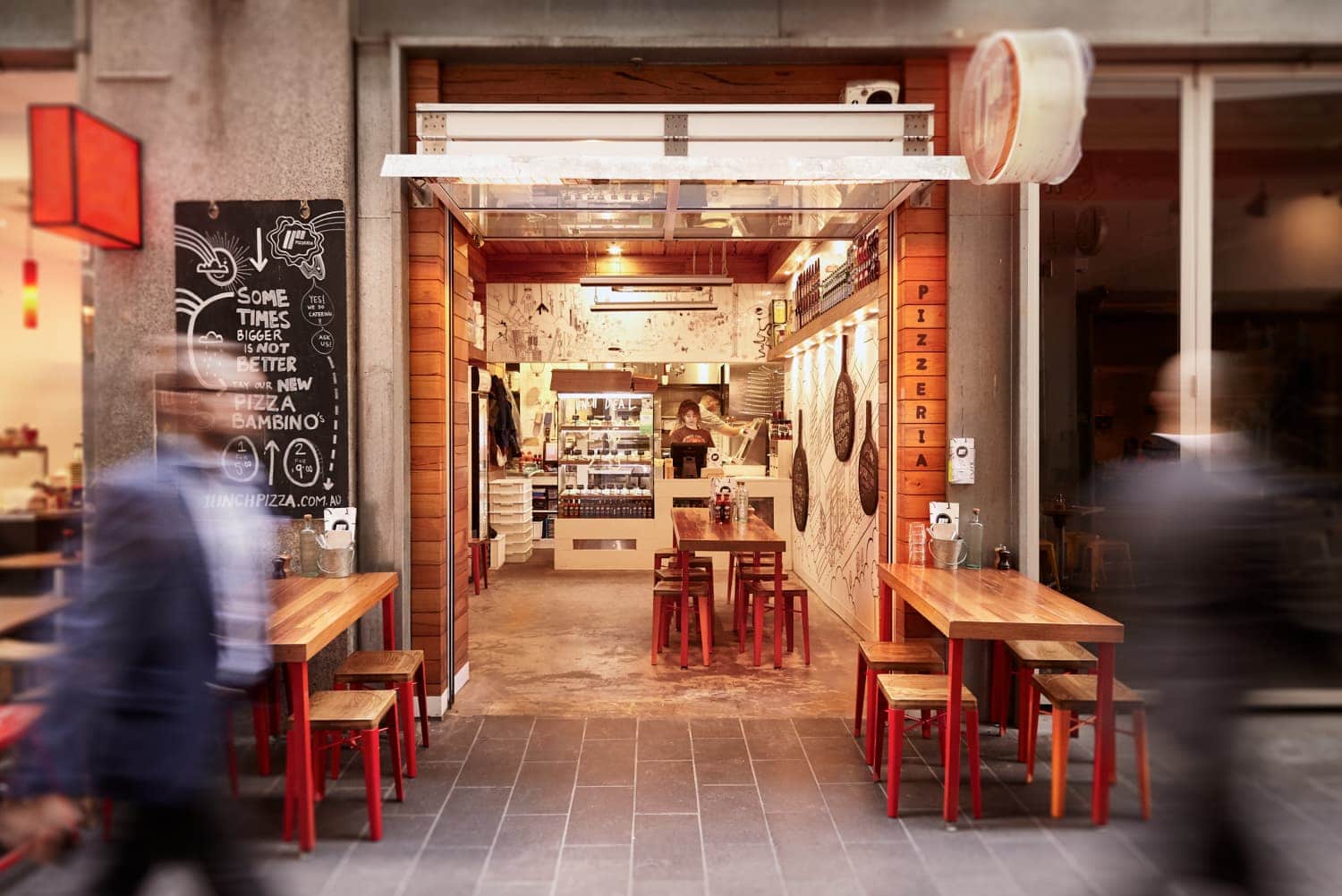 Exploring Melbourne
When you first step into the busy Melbourne city streets, it can feel overwhelming. Where to start? A great tip for newcomers is to make sure you don't just stick to the main streets of the CBD. While everyone knows the main strips of Swanston Street, Bourke Street and Collins Street, hidden gems can be found when you venture into the laneways. Our own Little Collins Street location is proof!
Each main street of Melbourne city has its own 'little' equivalent, and these spots are where the very best eateries and bars can be found. Melbourne's smaller streets and laneways are what gives our bustling city its character. These narrower streets were used in the Victorian era for horses and carts making deliveries. Now, these intimate spots are the perfect place to eat outside and people watch, or perhaps admire the famous street art dotted around the city.
Our Favourites
Obviously we know that our pizza is the best in the city. Gourmet pizza on hand-kneaded bases with fresh toppings are always sure to be a crowd pleaser, and our cosy Little Collins Street restaurant is the perfect place for a night out.
But we have to say, on that rare night that we're not in the mood for more pizza, there are some other great options nearby.
If you feel like hawker-style Asian tapas food, look no further than Rice Paper Scissors. Just a couple of blocks north of 11 Inch Pizza, this super cool location on Hardware Lane offers yummy Asian-fusion cuisine and plenty of plates to share.
For nights when you're craving a bowl of curry, our neighbours Roti Bar have you covered! This Malaysian restaurant might seem unassuming, but their curries pack a punch of flavour and their banana leaf rice is a favourite.
Have you ever tried Modern Armenian? Expand your culinary horizons and make a booking at Sezar Restaurant. This upmarket joint offers delicious lamb kebabs, tabouleh and a great atmosphere.
The Italians and the French may have a rivalry over who has the best landscapes, accents and wines, but we have to admit that the French fare offered at Bistrot d'Orsay is delicious. This spot is a little pricey, but for a special night out it has a great feel and superb menu.
After Dinner Drinks
Did you know that 11 Inch Pizza have a beer and wine menu? Pair your delicious gourmet slice with a cold Asahi, Peroni or Stella Artois, or perhaps sip a glass of our red or white wine. Our wine is available by the glass or bottle so you can make a night of it.
And if you feel like kicking on after your amazing pizza meal, there are plenty of fun and cool bars nearby where you can order cocktails and keep the party going!
For a sophisticated touch, try Charlie's Bar on Hardware Lane. With red velvet and leather plus creative cocktails, you're sure to feel like a movie star.
Lustre Bar, a short walk away from 11 Inch Pizza, offers a chilled-out vibe and live music. If you have any room after your pizza, you can try a fancy dessert to go with your drink.
The quirkiest bar near us has to be Robot Bar. This fun location offers sake and Asian beers, plus an Anime club, and is decorated with robots! Definitely worth a visit.
Melbourne Money On Now!
In case you need another reason to come into the city and have an amazing dinner, the City of Melbourne and the Victorian Government are currently running Melbourne Money! This initiative allows all diners who spend between $50 and $500 in Melbourne restaurants, cafes and bars to claim 20 per cent off their total bill.
11 Inch Pizza are excited to be involved in this program. The past twelve months have been hard for businesses like ours and we are thrilled that the city is coming alive again!
If you want to take advantage of the scheme, make sure you keep your receipt when you dine with us and other participating venues. You can upload your receipt onto the Melbourne Money website, and a 20 per cent rebate will be credited to your bank account. It's that easy!
So what are you waiting for, come and visit us today.