In need of something delicious for dinner tonight? Look no further than our best takeaway pizza near you.
Conveniently located in the heart of the CBD, 11 Inch Pizza offers a wide range of hand-crafted pizzas, along with Italian favourites such as focaccia, calzones and even salads. Looking for something on the sweeter side? Look no further as 11 Inch Pizzas has you covered with dessert pizzas and calzones.
Keep warm this winter by ordering in and we'll deliver straight to your door. Or, come by our Melbourne CBD restaurant on Little Collins Street and pick up your gourmet pizzas straight from our ovens. Our full pizzas menu is available for takeaway no matter the time of day.
Need something easy and convenient for lunch? Want to take back some food to the office? Having friends over for dinner? Let 11 Inch Pizza do the hard work for you. All you need to do is come down to our conveniently located CBD restaurant to pick-up from our wide range of hand-crafted goodies.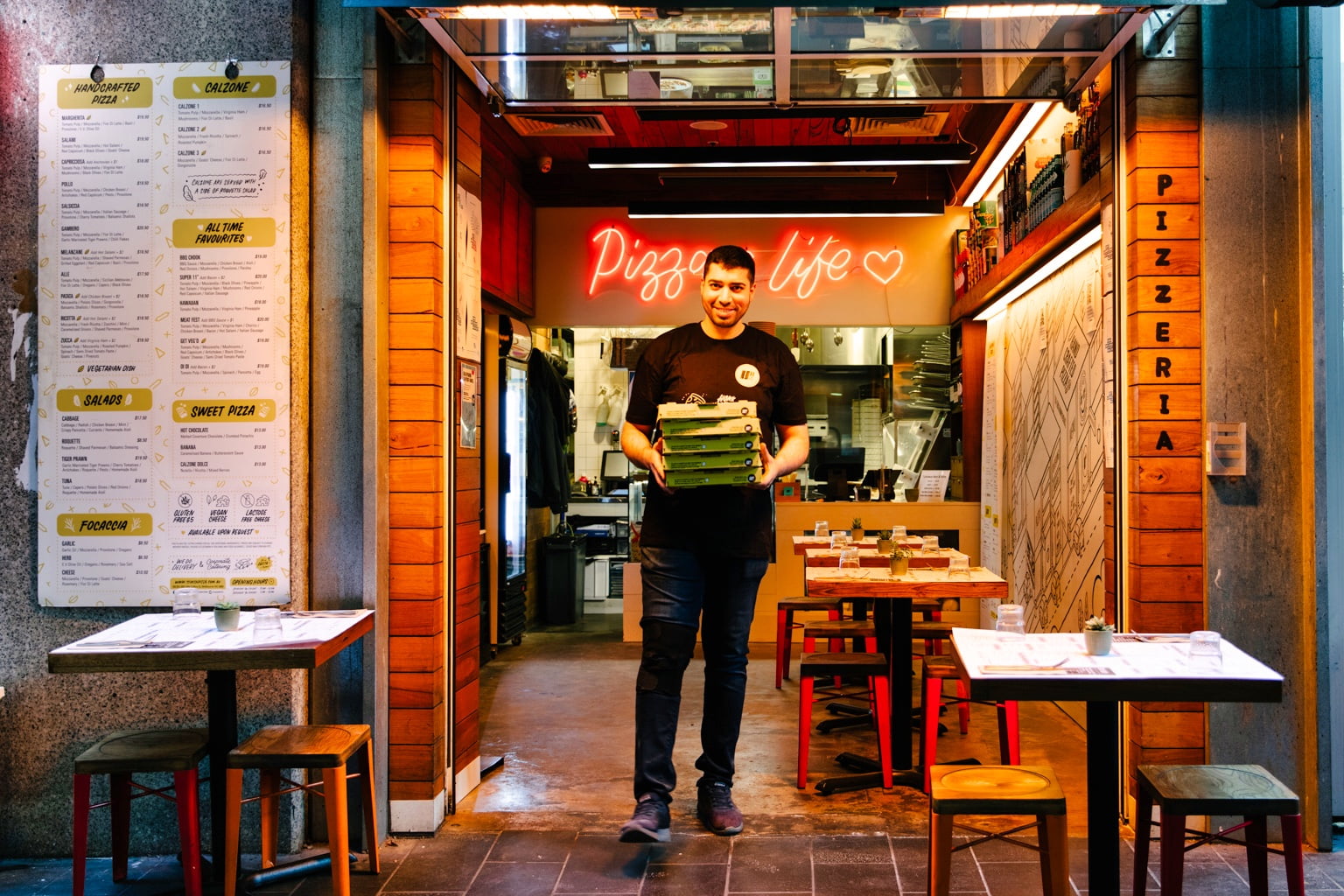 About Our Little Collins Street Restaurant
11 Inch Pizzas is conveniently located on the famous Little Collins Street in the heart of the Melbourne CBD. We offer a variety of dining options, including take-away, home delivery or eating-in.
We're always happy to cater to whatever dietary or allergy needs our customers might have. These include:
If you choose to grab some take-away pizza from 11 Inch Pizzas, you can trust that we've taken the care to meet any and all dietary requirements. After all, we believe everyone deserves to enjoy delicious gourmet pizzas no matter what!
Our location on Little Collins Street means that whether you're coming down from the office for a quick bite or driving in from outside the city, it won't take you long to find the best takeaway pizzas in Melbourne. Our yummy gourmet pizzas, calzones, pastas and salads will be in your hands soon enough.
About 11 Inch Pizza
11 Inch Pizza was born out of a love of pizza and a mission to create delicious pizzas for all to enjoy. Our Italian heritage has taught us all we need to know about how to make the perfect hand-crafted pizzas, calzones, pastas and more.
With fresh and top-quality ingredients, lots of love and care and years of perfecting our craft, 11 Inch Pizzas knows what's needed to create the best takeaway pizzas in Melbourne. But don't just take our word for it – come down today and grab some takeaway pizzas to see what all the fuss is about.
Get In Touch With Us Today
Looking for the best takeaway pizzas for dinner tonight? Come visit us, or get in touch:
Visit us at 7A/353 Little Collins Street, Melbourne VIC 3000
We're open from 11am to 9:30pm on weekdays, 5pm to 9:30pm on Saturday and 5pm – 9pm Sunday.