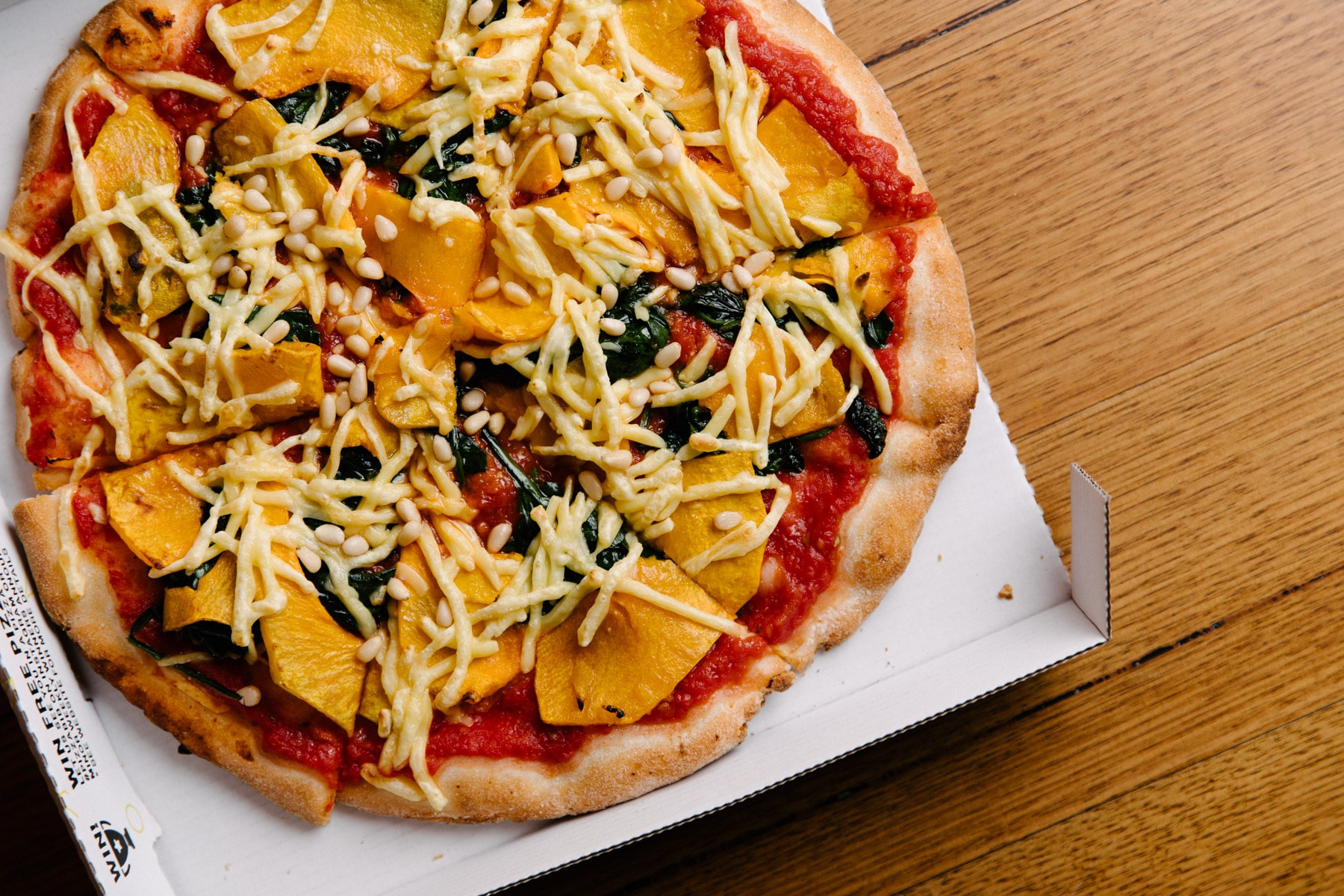 Calling all vegan pizza lovers! If you love a cheesy pizza but prefer to eat vegan cheese, we have the perfect dish for you.
Some people prefer a vegan cheese pizza because it's kinder to animals and the environment. Others avoid lactose and dairy because it can upset their stomach. Whatever the reason why you're choosing vegan cheese pizza, we make a delicious option that is just as tasty, gooey and cheesy as the real thing!
11 Inch has a huge selection of plant-based pizzas which are perfect for vegans and vegetarians. Plus, we can customise any pizza on our menu to make it vegan-friendly, and we can even use a gluten-free base if needed.
So don't worry about your ethical or dietary requirements – here at 11 Inch Pizza, we make pizza to be enjoyed by everyone!
About Our Little Collins Street Restaurant
Come and visit our welcoming pizza restaurant in Melbourne CBD to taste the best vegan pizza you've ever had. The search for a 'vegan cheese pizza near me' is over – you're going to find it on Little Collins Street!
We're open for lunch and dinner every day of the week, so you can get your fix of tasty vegan pizza whenever you want. Gather your friends and come visit us for a night out, a casual weekend lunch, or even a quick bite between meetings during the work week. Pizza is perfect for enjoying anywhere, anytime!
If you're in a hurry or you prefer to enjoy your vegan cheese pizza on the couch, you can order online and pick up our delicious pizzas whenever suits you. We even offer home delivery for locals, so check out if we can deliver your pizza direct to your door.
About 11 Inch Pizza Melbourne
We are passionate about pizza and it is our mission to make delicious, simple food inclusive and available to everyone. That's why we cater for all dietary requirements and preferences – because no one should have to miss out on a pizza night out! Whether you are lactose intolerant, prefer gluten free, or you are vegetarian or vegan – we have a menu item for you.
Our experienced team create all our delicious pizzas from scratch, along with a range of delicious focaccias, calzones, salads and desserts. We hand-knead our dough for the perfect crispy pizza base and we only use the freshest ingredients for a big flavour hit!
Get in Touch with Us Today
Next time you're looking for the perfect dairy free pizza in Melbourne, visit us or get in touch:
Visit us at 7A/353 Little Collins Street, Melbourne VIC 3000.
We're open from 11am to 9:30pm on weekdays, 5pm to 9:30pm on Saturday and 5pm – 9pm Sunday.
Please note, from 2:30PM – 5PM and for 30 minutes before close, we only offer takeaway and delivery.