Planning your work Christmas party? Looking for the best restaurant for a Christmas party  in the city? For all your Christmas party catering needs, look no further than the team at 11 Inch Pizza. Whether you want to dine in at our central Melbourne location, or you need quality catering to be delivered to your party location of choice, we can ensure your Christmas catering gets everyone in the festive spirit!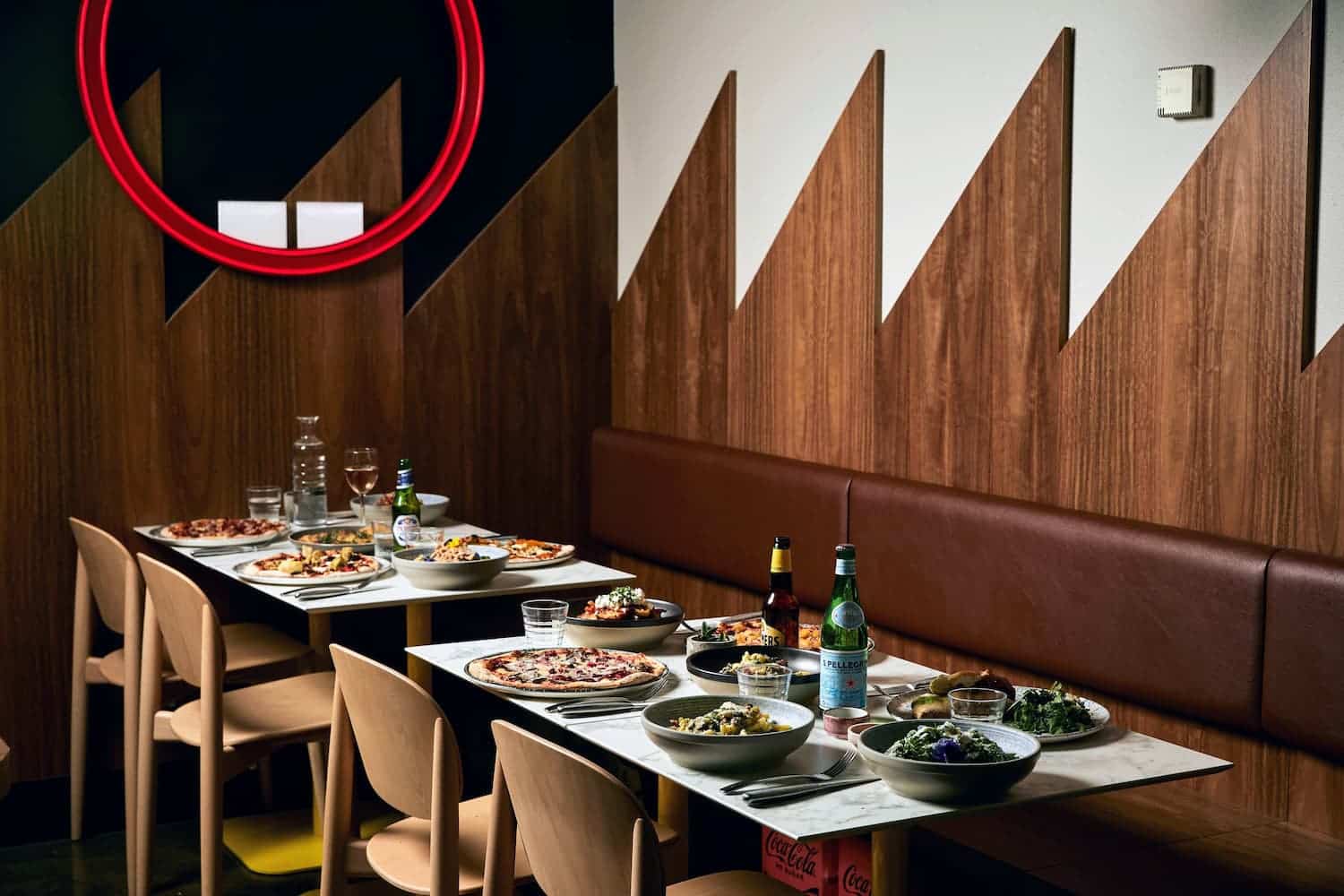 Christmas Parties at 11 Inch Pizza
Why not have Christmas at our place? Our cosy Little Collins Street restaurant is the perfect location for a Christmas party for your family, your friends, or your colleagues.
Crowd Pleasing Catering
Everybody loves pizza – it's one of the most popular food choices in the world! When it comes to catering for everyone's food preferences and dietary requirements, 11 Inch Pizza is the perfect option. With a variety of vegetarian, vegan and gluten-free options (base will contain small amounts of gluten), we can ensure that all your party guests enjoy a Christmas feast. We also offer a range of focaccias, calzones and tasty salads to cater to everyone's preferences.
Location, Location, Location
It's important that everyone can get to your Christmas party with ease. Even better if there's plenty of public transport around in case people want to have a Christmas drink! Our pizza restaurant is conveniently located right in the heart of the city, so it's easy for everyone to get to. Plus, it's perfect for CBD officer workers having a mid-week Christmas lunch.
Friendly Faces
If you're looking for Christmas party catering served with a smile, you will find it at 11 Inch Pizza. Our friendly staff love hosting groups for holiday get-togethers, and we will be sure to provide a fun and festive atmosphere for your event!
Catering For Your Christmas Party
Got the location sorted but need some delicious and crowd-pleasing food for your Christmas party? You need the huge range of gourmet and favourite pizzas from 11 Inch Pizza's extensive menu.
Food For Everyone
Finding food that is going to suit everyone's dietary needs and tastes can be tricky. Luckily, pizza can be topped with just about anything – and we have a huge menu of delicious options to choose from! We also offer desserts, focaccias, calzones and salads. So whether you are looking for a hearty pepperoni pizza, a juicy prawn pizza, or a light and authentic margherita pizza, we have the one for you!
Share The Love
Christmas is all about coming together with family and friends. What better way to share the love than by sharing a meal with the ideal food for splitting between people – pizza! Sample all the slices and have a taste of everything… or pick a favourite and enjoy every bite.
Quick And Convenient
Our central location makes both delivery and pick up extremely convenient and easy. Come in and grab your stack of pizzas, or let us deliver them to your Christmas party venue! Pizza is one of the best foods for delivery because it travels well and looks and tastes amazing when it arrives. All you have to do is open up the boxes and enjoy!