Is there anyone who doesn't love pizza? This classic Italian specialty comes in so many different flavours, it's impossible to pick a favourite!
11 Inch Pizza chefs hand knead the dough of every pizza and use fresh and delicious ingredients. Our menu includes heaps of options, from classic to gourmet pizzas, with choices for vegetarian, vegan and gluten-free (base will contain small amounts of gluten) diners so that everyone can enjoy.
If you're struggling to decide on what to order, check out our top 10 pizza flavours from our menu.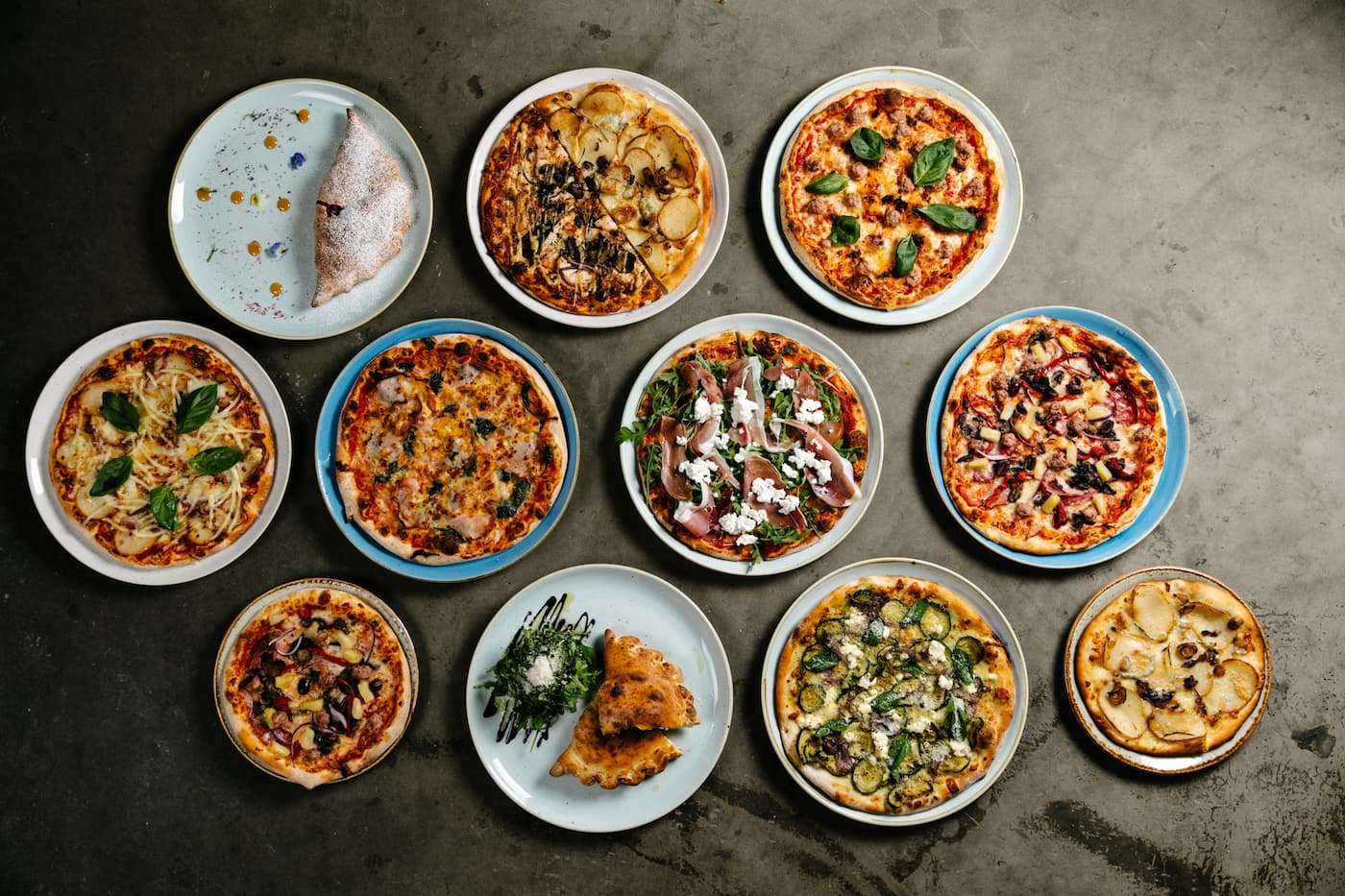 This classic pizza is one of the best known for a reason. Margherita pizza may be simple, but when it's created using high quality and delicious ingredients, and placed on a hand-kneaded base, it's a taste sensation.
The Margherita pizza originated in Naples and consists of tomato, mozzarella, fior di latte and basil. If you're looking to order a pizza to please a crowd, margherita is a great option. And because this delicious pizza needs to be enjoyed by all, we offer a vegan-friendly lactose-free option.
Looking for something with a bit more bite? The amazing Gambero pizza offers all the delicious tomato and mozzarella goodness of a margherita, with the added bonus of juicy garlic-marinated fresh prawns and a kick of chilli.
'Gambero' is the Italian word for prawns, and this seafood pizza is packed full of them. The flavour combination of garlic and chilli is sure to thrill your tastebuds.
Potato on a pizza? It might surprise some, but this is actually a traditional type of pizza. With beautiful thin slices of potato seasoned with balsamic shallots and rosemary, and paired with mozzarella and gorgonzola, the Patata pizza is a delicious vegetarian choice.
You're sure to be well satisfied by this filling pizza flavour, but if you want an added extra, we offer the option to add chicken breast.
A favourite for vegetarians, the Zucca pizza is packed full of delicious roasted pumpkin. There are not many flavours more comforting than warm pumpkin with pinenuts, and the addition of mozzarella, spinach and goats' cheese make this pizza a tasty choice. We slice the roasted pumpkin into thin pieces to lay on top of your pizza, achieving full coverage and yumminess in every bite!
Not a vego? You'll still love the Zucca, and if you want, you can add on some Virginia ham.
It may be contentious, but personally, we just love pineapple on pizza! The Hawaiian takes the classic pineapple and ham flavour combination and adds our homemade tomato pulp and delicious mozzarella, resulting in a pizza you won't want to share! The juicy explosions of pineapple add a sweetness that you won't find on many pizzas, and the ham provides that salty kick for the perfect flavour.
It may not be the most traditional pizza flavour on our menu, but when it comes to the great pizza debate, we're team pineapple!
We've given you a few great veggie options, but this one's for the carnivores! Our Meat Fest pizza is just that – a celebration of meaty goodness all stacked on the one hand-kneaded pizza base. Enjoy Virginia ham, juicy chicken breast, spicy chorizo, hot salami, bacon, and Italian sausage. You don't get much meatier than that!
If you're after a protein boost, this pizza is the one for you. You can even add BBQ sauce as a bonus extra.
Can't decide? We know our menu is stacked full of delicious ingredients and tantalising flavours – so we made a pizza that combines the best of the best! The Super 11" is jam-packed with mushrooms, olives, hot salami, Virginia ham, red onions, Italian sausage, red capsicum and – you guessed it – pineapple! It's a true taste explosion that is sure to satisfy.
If you're after a pizza with something for everyone, the Super 11" is sure to please! Add bacon for an extra meaty touch.
We are so lucky to be based in Melbourne where we have access to amazing fresh produce. It's the delicious vegetables that make our favourite vegetarian pizza sing. Get Veg'd includes mushrooms, red capsicum, artichokes, black olives and goats' cheese. We can make it vegan too, with lactose-free options. This is the vegetarian pizza that makes even meat lovers smile.
For something light and fresh, you can't go past our Ricotta pizza. The combination of mint, zucchini, caramelised onions and fresh ricotta is a match made in pizza heaven.
Ricotta is an Italian 'whey cheese', meaning it is made from milk whey rather than curd as with most cheeses. It's light and fluffy, perfect for warm summer nights (or any time really!). Our Ricotta pizza contains bursts of flavour in every bite. If you're after a bit of spice, add hot salami.
We had to include a dessert pizza! Our sweet Hot Chocolate pizza is the ideal dessert – or for the real sweet tooth, the whole meal. A delicious pizza base is covered in melted coverture chocolate and then sprinkled with crumbed pistachio. An amazing treat to finish your meal.