Mushrooms are possibly the most versatile vegetable to grace our plates. Sauté them alongside a big breakfast, toss them through a hearty ragu, or better yet – pop 'em on a pizza. But with so much versatility comes the big question – what are the BEST mushies to put on a mushroom pizza?
Well, strap in because we've got mushroom pizza inspiration coming out our ears. From portobello pizza bases to buttery shiitake toppings – we've got the optimum combos to make your mushroom pizza shine.
Not only are mushrooms wonderfully delicious, but these scrumptious little numbers are also packed with tons of enriching health benefits. They offer a healthy dose of minerals and vitamins including magnesium, copper, potassium, zinc and various B vitamins, including folate. Plus, they're rich in antioxidants and low in calories – so we'll be eating them by the handful, thanks.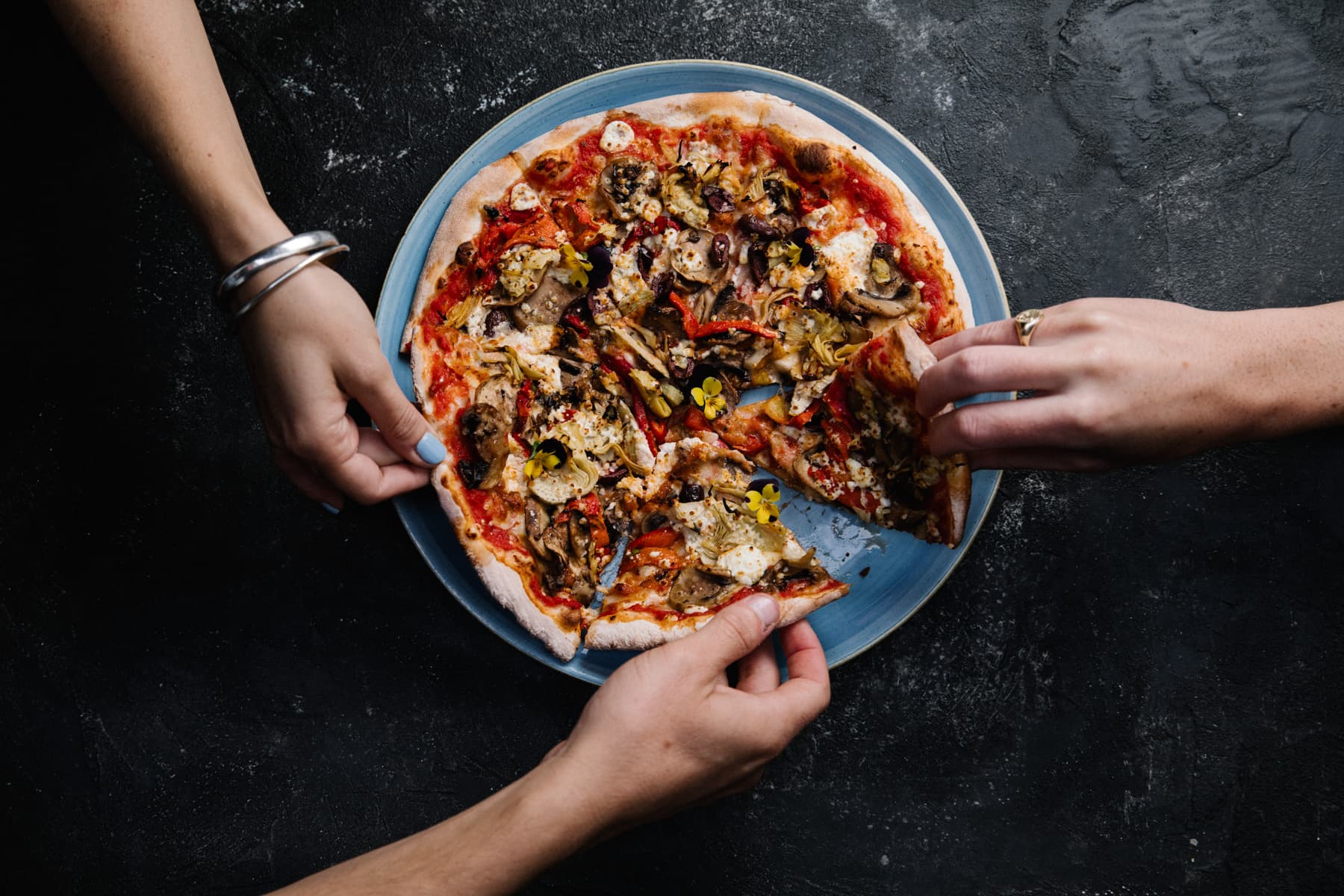 Portobello Mushrooms
Portobello mushrooms could quite possibly be our personal fave when it comes to injecting your pizza with a faux meatiness. Larger and thicker than most mushrooms, Portobellos are plump and bursting with a meaty flavour, making them the headliner of any decent mushroom pizza.
Psst – allow us to let you in on a little secret. These hefty mushrooms can even double as a succulent pizza base alternative! Chuck it on the grill and then load it up with your pizza sauce and toppings and you've got yourself a mouth-watering plant-based pizza in minutes.
Honestly, is there anything a Portobello can't do?
Button Mushrooms
Don't you dare cast the humble button mushroom aside for being 'common'. These small, white, round-topped veggies are probably the first to spring to mind when we think 'mushrooms'. You know the ones that are almost always sitting at the bottom of the fridge? Well, let's put them to use.
Toss these mini mushies on the pan with some garlic, oil and fresh herbs (parsley is our pick) and watch them go from bland to bliss.
Scatter these with generosity atop your chosen base with some mozzarella, goats cheese and herbs for a cheesy, 'shroomey delight.
Shiitake Mushrooms
Level up your mushroom pizza by adding some shiitake mushrooms to your topping arsenal. Their distinctive flavour can sometimes be an acquired taste, so tread lightly if it's your first experience with them.
For shiitake lovers though, we've got a combo to knock your socks off. Grab yourself a red onion, some sour cream, and a hefty dollop of gorgonzola. Top it off with your sautéed shiitakes and some button mushrooms to beef it out. Grill it up and let those salty, sweet flavours dance across your tastebuds.
Oyster Mushrooms
These gangly looking mushrooms are often used in Asian dishes, but we're throwing them into the pizza mix because they're so damn good. Their lanky shape is super easy to shred by hand, which is convenient when it comes to dousing your pizza base with them.
Their flavouring is quite subtle, although some say that their namesake can shine through with a slight seafood or earthy taste. Either way, you can't go wrong when you pair these mushies with a handful of spinach, parmesan and fresh herbs for a nutrient-rich healthy dinner.
Cremini
In the need of a mid-sized mushroom to tie together your mushroom pizza? Enter Cremini. These mid-sized mushies are the perfect bridge between your smaller button mushrooms and hefty portobellos.
Their flavouring is similar to that of its larger counterpart. However, their size lends them more to chopping and sautéing before scattering in smaller portions across your doughy creation. Try pairing them with a plant-based crust for a vegan mushroom pizza alternative, or keep it traditional by layering them on a plump doughy crust.
Mushroom tips:
Before you hit the kitchen with your mushrooms in hand, we have some quick tips to get the most out of your mushroom pizza:
Cook your mushrooms before you pop them on your pizza. This helps unlock their rich flavours, plus you can incorporate herbs and spices into the sauté process to enhance their taste
Try mixing a variety of mushrooms on your pizza. The blend of textures and flavours will keep you coming back for slice after slice
Opt for mushrooms that are in season to get the freshest flavours. Most varieties grow all year round, but Autumn is the peak season for mushies. Morel mushrooms only grow in spring.
Strapped for time? No dramas, leave it to our expert pizza chefs to whip up a mushroom pizza to hit the cravings on the head. Order online now or pop into our CBD store to indulge.