If you're based in Melbourne and are wondering where the best pizza delivery near you is, 11 Inch Pizza is what you've been looking for.
At 11 Inch Pizza, we offer a wide range of gourmet pizzas as well as focaccias, calzones, satisfying salads, and dessert pizzas. The best part is that we can deliver all these delectable dishes straight to your door. So, whether you're too busy at work to leave the office but don't want to skip lunch, or just want to enjoy your Friday night pizza while watching a movie on the couch, 11 Inch Pizza is here to fulfil your needs.
11 Inch Pizza is able to offer delivery to the following Melbourne suburbs: Melbourne CBD, South Melbourne, North Melbourne, West Melbourne, East Melbourne, Docklands, Carlton, Collingwood, Fitzroy, Parkville, Port Melbourne and Southbank.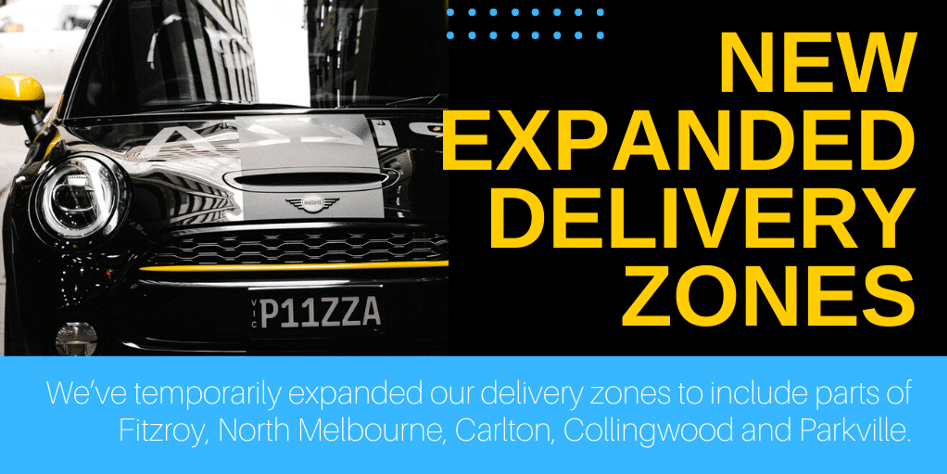 About Our Little Collins Street Restaurant
11 Inch Pizza's cosy restaurant is conveniently located in the heart of Melbourne's CBD on Little Collins Street. This means we are in the perfect position to quickly and efficiently deliver take-away pizza orders to Melbourne's inner-city suburbs. Basically, our central location means that you don't have to worry about your pizza getting cold before you're able to devour it.
If you happen to live outside of our delivery zone, we also offer pick-up takeaway options so that you don't have to worry about missing out on all the deliciousness we have to offer.
Additionally, because we believe wholeheartedly in spreading the joy of pizza as far and wide as possible, we are able to cater to a range of dietary requirements. As such, we offer vegetarian, vegan, gluten-free and lactose-free options.
About 11 Inch Pizza
At 11 Inch Pizza, we truly believe that pizza has the power to bring people together. Nothing makes us happier than seeing the joy our pizza can bring as people take their first bite. We want to continue bringing this joy for as long as possible to as many people as possible.
We take pride in producing the tastiest pizzas in Melbourne and we are able to do this because of the love and care that goes into every step of the pizza-making process. We care about our pizza because we care about our customers.
Get in Touch with Us Today
Next time you're craving 'pizza delivery near me', get in touch with 11 Inch Pizza:
Visit us at 7A/353 Little Collins Street, Melbourne VIC 3000.
We're open from 11am to 9:30pm on weekdays, 5pm to 9:30pm on Saturday and 5pm – 9pm Sunday.