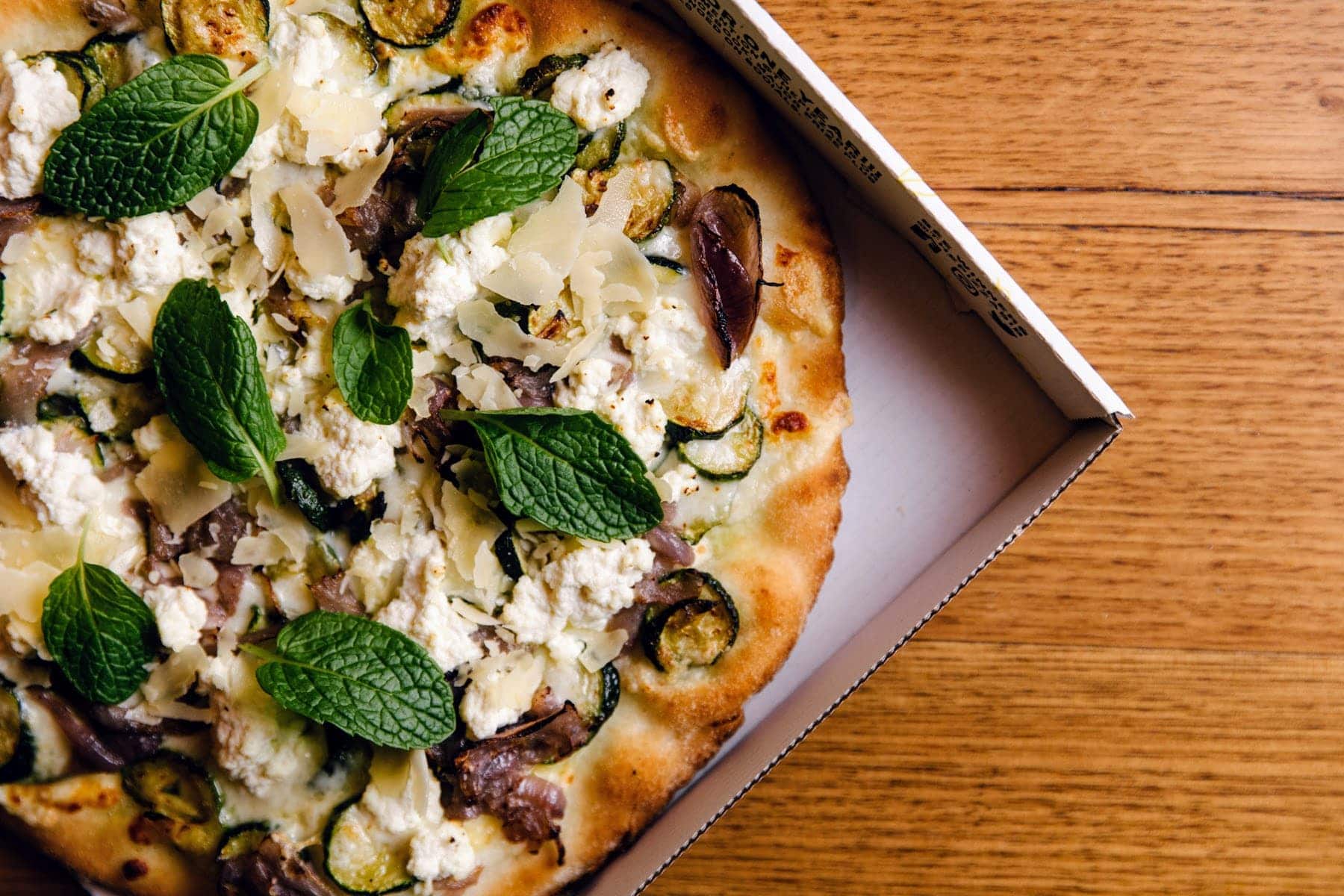 Put your apron on and change it up with these tomato-free pizza ideas to settle those isolation cravings!
Not all cheesy pizzas need red sauce or tomato, so why not use your time in lockdown to experiment with a tomato-free pizza?
These healthy options will leave you with a smile on your face and a full stomach with just enough space for dessert!
Cheesy Base for a Happy Face
Don't you just love seeing strings of cheese when pulling a pizza slice apart?
The four cheese pizza is a crowd pleaser that will leave everyone with a cheesy grin afterwards. There are so many options for the four cheeses that you can use for this pizza. You could try anything from mozzarella and fontina, right through to gorgonzola and parmesan.
Lightly char-grill this pizza and let the cheese melt in your mouth.
If you'd like some colour on your pizza Bianca – or white pizza – then top it with your choice of garlic pistachio pesto, prosciutto or some olives.
Green and Lean Reigns Supreme
Pesto – or basil sauce for those playing at home – is another fun tomato-free pizza sauce to try out during lockdown.
Spread pesto on your base and add some sausage or wild mushrooms, or just keep it simple with cheese. If you'd like to stick with the green theme then just add some zucchini and rocket leaves.
Gourmet Pizza Toppings
Now that you've got three bases to choose from, it's time to move onto topping your tomato-free pizza with some traditional Italian gourmet toppings.
If you're feeling fine and dandy and would like to get a bit creative with some gourmet toppings, then take your choice of base – cheese, pesto or barbeque – and mix and match with these great toppings.
Make sure you put these in the middle of the table so everyone gets a piece of Italian gold, or just keep it all to yourself!
Blue Cheese and Balsamic Glaze
Grill some strip steak and chop it into thin slices. Layer it on top of your pizza and then divide some Monterey jack cheese and blue cheese like cabrales. Bake the pizza until the cheese has melted, then drizzle some balsamic glaze over it and shaved parmesan cheese.
Prosciutto and Fig
If you want a good mix of salty and creamy then this tomato-free pizza is for you. Add your preferred sauce, we think a good sprinkle of mozzarella cheese will do it, half some figs and add them to the base along with some prosciutto and spinach. Sprinkle some more cheese and then drizzle some olive oil for the perfect balance.
Seafood
If seafood is your thing then fear no more with this exciting new-haven style white pizza. Grab some fresh clams and mix them with about two tablespoons of the juice, olive oil, oregano and garlic.
Sprinkle some mozzarella over the base and pour the clam mix over the top. Cook the pizza before garnishing with parsley and red pepper.
Potato
Of course, how could we forget the classic potato pizza? I know you might be thinking about the dangers of a carb-on-carb feast but don't worry, this healthy choice pizza will be a family favourite!
Slice your potatoes very thinly but don't peel them! Drizzle enough olive oil to wet each slice and then neatly layer each slice over the pizza dough with some mozzarella. Make sure you go all the way to the edge. Bake the pizza until the potato slices are nice and golden, then add some rosemary to finish it off.
At 11 Inch Pizza, we offer two delicious tomato-free pizzas – the ricotta and the patata.
Our ricotta pizza is topped with four cheeses – a delicious mix of mozzarella cheese, fresh ricotta, shaved parmesan and provolone. Don't forget soft zucchini, caramelised onion and mint too! This fresh vegetarian-friendly pizza will satisfy those taste buds. For those meat-heads, you can add hot salami for just $2 extra.
We also offer the patata option, which is topped with mozzarella, thinly sliced potato, gorgonzola, balsamic shallots, rosemary and provolone. If you fancy some meat, chicken breast is only an extra $2.
Try these tomato-free pizzas with contact-free delivery right to your door! Order online today!