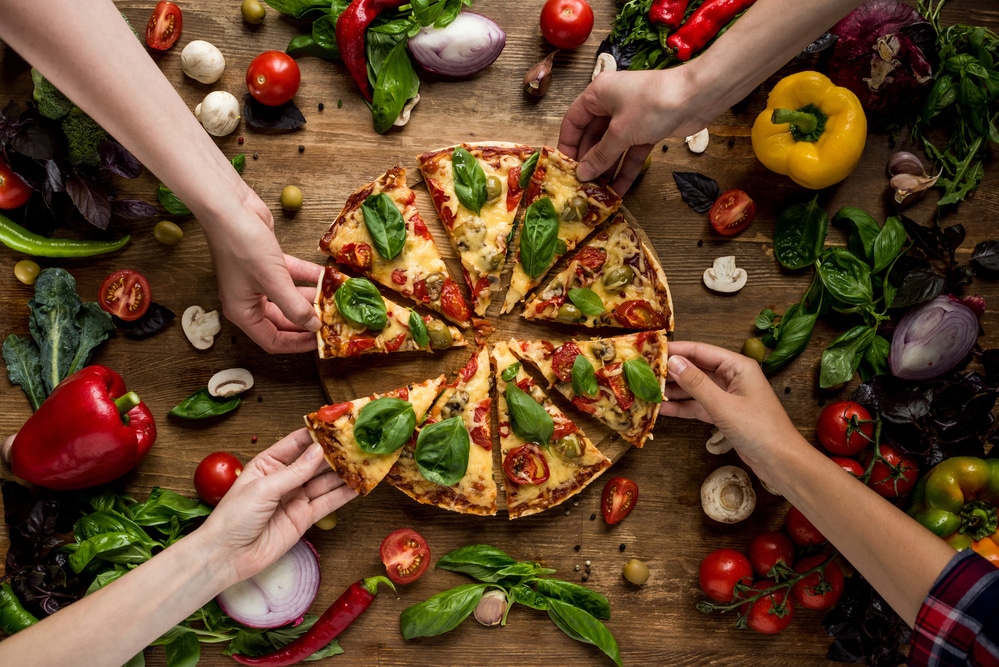 Want to know the secret to gourmet pizza toppings? You're in the right place.
No one does pizza like the Italians. They invented it and have certainly perfected it. And just as they have perfected the basic pizza elements like dough, tomato sauce and cheese, they have also perfected many different toppings. Many different regions of Italy have developed their own unique toppings which, thanks to globalisation, have spread around the world and can now even be enjoyed on the other side of the world in Australia.
If you've perfected the art of making the perfect Italian pizza dough, then you need the perfect Italian toppings to complement it.
Traditional Italian Pizza Toppings
While this is certainly not an exhaustive list of traditional Italian pizza toppings, these are just a few of our favourites:
Pizza Margherita
Everyone knows and loves it – pizza margherita is a universally praised pizza for a reason. Originating in Naples, the margherita pizza has an interesting history supposedly rooted in a visit by Queen Margherita to Naples.
The iconic pizza margherita is also known for representing the colours of the Italian flag: red tomato sauce, white mozzarella, and green basil. The combination of these ingredients creates a delicious pizza which has withstood the test of time.
Pizza Marinara
Like the margherita pizza, pizza marinara also originated in Naples. This simple pizza is topped with plain marinara sauce, oregano and garlic. Essentially, it is very similar to the margherita pizza but lacks the cheese and basil. Apparently, back in the 1700s and 1800s, pizza marinara was popular with poor sailors and made on their ships as the ingredients used to make it were easily preserved.
Pizza Pugliese
Originating in the Italian region of Apulia, pizza pugliese is generally topped with tomato, onion and mozzarella. However, there are many different variations of the pizza pugliese with some versions using oregano, capers and olives. Some recipes call for different cheeses to be used, such as mozzarella, provolone and pecorino and some even suggest that the tomato sauce be omitted completely.
Basically, you can mix and match the aforementioned ingredients to suit your own tastes and create your own perfect pizza pugliese.
Pizza Capricciosa
The pizza capricciosa is one of the most iconic Italian pizzas and can be found in pretty much every pizzeria in Italy. Named for looking 'capricious', the abundantly rich pizza capricciosa is generally made up of ham, artichokes, mushrooms and black olives.
As with many Italian pizzas, different regions and territories have taken the basic recipe and modified it to make it their own. For example, in Sicily, some prepare the pizza capricciosa with boiled eggs and, to the north, many prepare it with bits of sausage cut into rings.
Pizza Prosciutto Crudo e Rucola
Though it can obviously be enjoyed at any time of the year the prosciutto crudo e rucola pizza is a summertime favourite thanks to its fresh flavours. Made with prosciutto, rocket and your choice of cheese (some of our favourites include parmesan, mozzarella and fior di latte), pizza prosciutto crudo e rucola is a dinner party favourite for being easy to make and universally loved.
Pizza Melanzane
One of the best vegetarian pizzas out there, the star ingredient of pizza melanzane is grilled eggplant – after all, melanzane is the Italian word for eggplant. Often complemented with other vegetables like capsicum and potato, parmesan is also essential to a pizza melanzane. There's something about the way parmesan interacts with eggplant that is truly magical.
Pizza Alla Salsiccia
The key ingredient of pizza alla salsiccia is Italian sausage. Savoury, spicy and a little sweet, Italian sausage on a pizza is absolutely divine. You can enjoy it simply with just a tomato base and cheese on top or you can add other extras like fennel, red onion and capsicum. Either way, pizza alla salsiccia makes for a hearty and delicious meal.
Italian Gourmet Toppings at 11 Inch Pizza
At 11 Inch Pizza, we offer a variety of traditional as well as less traditional (but no less tasty) gourmet pizza toppings. Whether you're in the mood for our famous classic margherita pizza, or for a controversial pineapple-topped Hawaiian pizza, we can satisfy your cravings.
We only use the highest quality ingredients; from the flour we use to hand-knead our dough to the freshly picked basil we use to add the finishing touches to your pizza margherita. We believe that every element should contribute to making the best pizza possible, which is why we promise to never cut corners in order to cut costs. You, the customer, are our top priority and you deserve no less than the best.