Wondering how to make your own pizza sauce in just a few, simple steps whilst still achieving delicious and gourmet pizza results? We've got the recipe for you.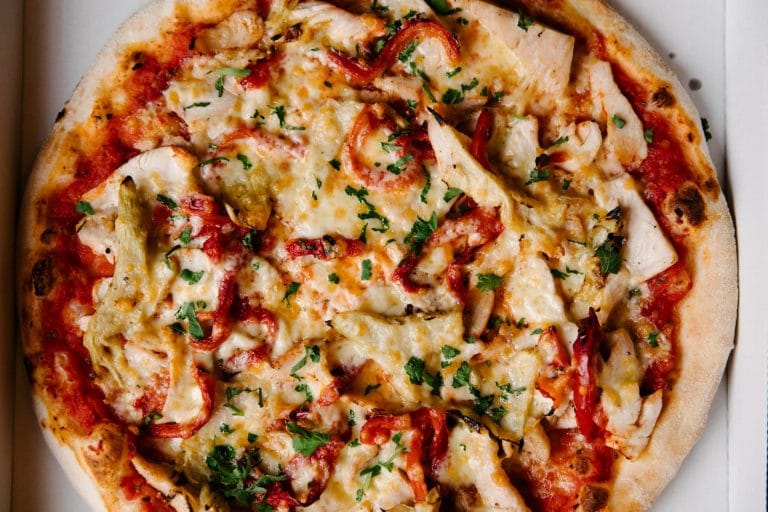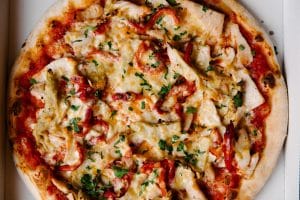 This pizza sauce recipe is bursting with flavour thanks to a combination of spices that add zest to an already-appetising tomato base. When making homemade pizzas, people often focus all their efforts of perfecting the dough or choosing their toppings. However, it's a crime to gloss over the pizza sauce. The sauce is the deciding factor in whether your pizza is merely good or whether it's superb!
This recipe is made for everyone. It's perfect for making with kids, as every step is quick and straight-forward, and as you will discover, if you decide to make your sauce with fresh tomatoes, you will not only gain a superbly scrumptious pizza, but the kids can be their own little master chefs.
Our recipes can be enjoyed by the vegan, lactose-free and gluten-free among us too! Follow this sauce recipe to elevate your homemade pizza to a restaurant-quality dish in just three easy steps.
What's The Difference Between Pizza Sauce and Pasta Sauce?
If you're thinking your favourite pasta sauce recipe might do the job for your pizza too, here's why that's not a good idea. Pizza sauce needs to be much thicker and even more flavoursome than pasta sauce!
The key difference between the two is that pizza sauce is uncooked whilst your pasta sauce recipe is designed to be cooked and simmered. The sauce on your pizza will taste even fresher and flavoursome if it hasn't been cooked twice. That's why our recipe makes sauce that is ready for spreading straight on top of your dough once it's all mixed together.
What Makes This Sauce Stand Out
Pure Tomato Pulp (Polpa di Pomodoro): Polpa di Pomodoro is Italian for crushed tomato – there are plenty of options in the supermarket of the canned or bottle variety. Otherwise, crushing the tomatoes yourself can be oodles of fun for the whole family (if you don't mind a few goops here and there). Whatever you do – don't stand for watery pizza sauce! Using plenty of pure tomato pulp will make your sauce thick and hearty, and you won't end up with soggy pizza. No-one likes soggy pizza!
Dried Oregano and Basil: Using dried spices will save you time and still impart the flavour and piquancy you're after. Of course, there's no problem with using fresh spices if you prefer. Even better, if you can slice-out a spot in the garden, growing your own ingredients will always be the freshest available!
Salt: Unlock your pizza sauce flavour with a sprinkle of yummy salt.
Extra Virgin Olive Oil: Drizzling some of your favourite extra virgin olive oil in your sauce is just what the Pizza-Gods ordered! Again, go with what your taste buds are telling you.
(Whilst this pizza sauce heavily relies on its aromatic tomatoes for its hearty, fresh and savoury taste, we have alternative ideas for making mouth-watering homemade pizza that's tomato-free too).
Ingredients
500g Pure tomato pulp (Polpa di Pomodoro)
1tbs Dried Oregano
1 ½tbs Dried Basil
¾tsp Salt
3 tbs Extra Virgin Olive Oil
3 Easy Steps
Pour your pure tomato pulp (Polpa di Pomodoro) in a large bowl and mix well. If you are making with fresh tomatoes, crush tomatoes in a large bowl until thick and saucy.
Add everything else and mix it! That means the oregano, basil, salt, and extra virgin olive oil.
Spread evenly on top of your pizza dough.
This pizza sauce will make enough for two medium-sized pizzas or one large pizza. It can be easily doubled if you're making pizzas for family and friends – or if you just want more for yourself. We're not judging!
How To Store It
Your sauce can be refrigerated for up to a week. The recipe is also perfect for freezing so you have your favourite homemade pizza sauce ready to go whenever you next make pizzas.
A bonus tip is to freeze the sauce in an ice cube tray. That way you can defrost and heat the sauce far quicker in the microwave than if it was a single frozen block. It also makes it easier to use only part of your frozen sauce, if you don't need all of it. Use 5 ice blocks of sauce to cover one large pizza!
Whatever you do, don't underestimate the power of a perfect pizza sauce – we don't!
Whilst an integral part of a delightful homemade pizza, the sauce is just one element of a bigger picture. To make sure you nail the rest of your recipe, check out our tips for avoiding the most common pitfalls when making pizza at home.