Looking for the best things to do in Melbourne at night? When the sun goes down, the city comes alive. Melbourne has one of thee best nightlife scenes in the country, with far more to see and do than we could fit on this list! Luckily, we have chosen some of our top experiences after dark so that you can plan the perfectt evening out with friends.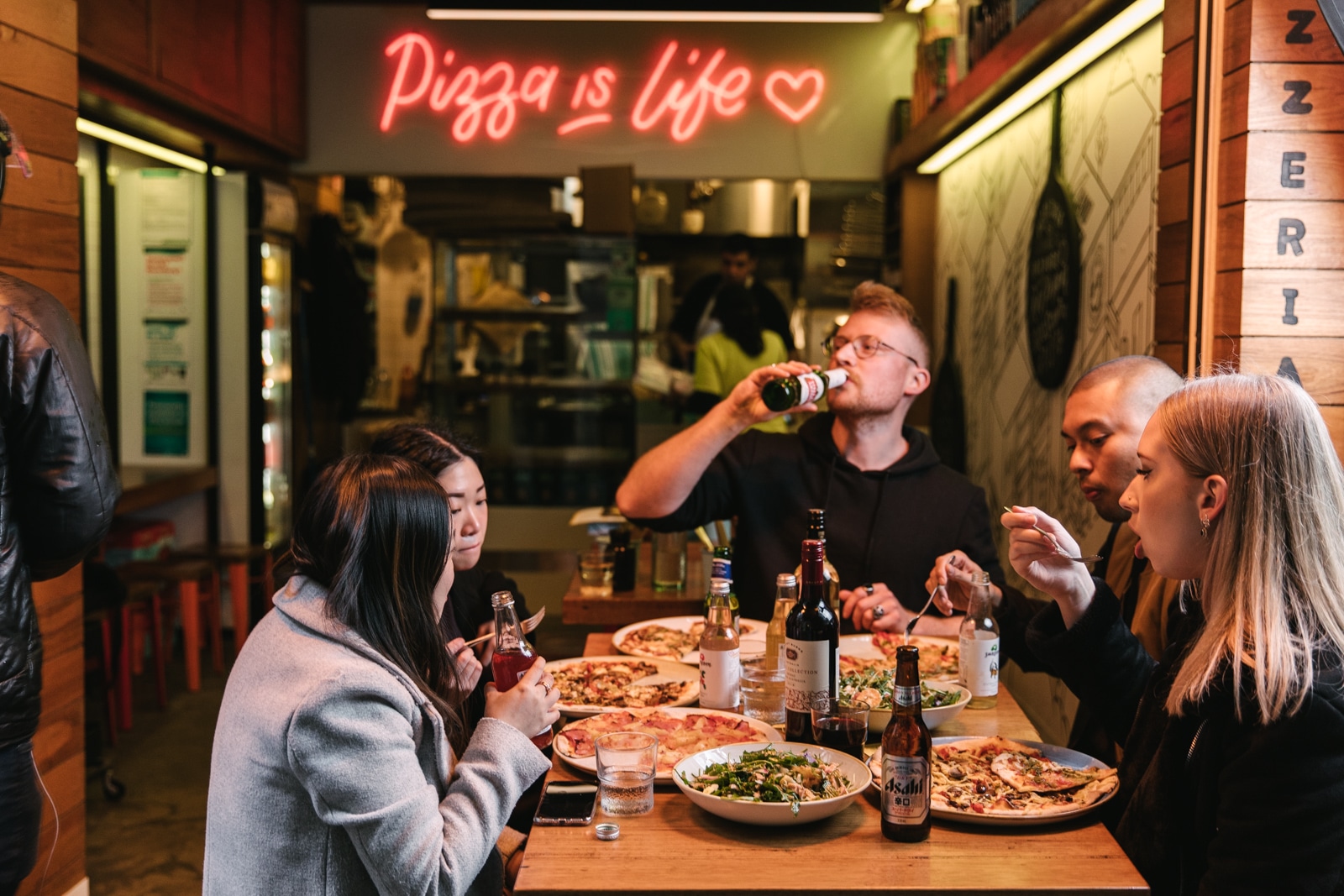 Drink Cocktails on a City Rooftop
When the weather gets warm in Melbourne, it's time for rooftop bar hopping! The city boasts a huge range of fun rooftop bars, complete with fairy lights, art murals and bright cocktails for the perfect Instagram photo. Even though some of these bars require a bit of stair climbing, the workout for the glutes is well worth the effort! Everyone loves catching up with friends for a drink on a hot afternoon or warm summer night. Enjoy the rooftop breeze as you watch the city move below you.
Watch the Sunset from the Best Seat in the House
Speaking of enjoying things from great heights, why not try the greatest height of all. Eureka Tower is the highest skyscraper in the Southern Hemisphere and offers unparalleled views of the city. The Eureka SkyDeck is located on the 88th floor, 285 metres about sea level. There's no need to book ahead of time – simply arrive and be transported up the super-fast elevator to the SkyDeck level. Once there, you can marvel at the spectacular sights and stay to watch the sun go down. Last entry is 9:30pm, leaving you plenty of time for the sunset show.
Have Dinner at 11 Inch Pizza
Maybe we're a little bias, but we can't think of any better activity than meeting up with friends or family for a delicious pizza feast at our Little Collins St restaurant! After all, pizza is the ultimate fan favourite, with a flavour and topping combination for everybody. We provide for all dietary requirements, so no one misses out, with lactose free cheese, vegetarian and vegan toppings, and homemade gluten free (will contain small amounts of gluten) bases. And of course, our extensive menu is full of more than just incredible gourmet and classic pizzas – we also offer delicious chewy focaccias, stuffed calzones, fresh and zingy salads and mouth-watering sweet dessert pizzas. Plus, we serve beer and wine in house, or you can bring your own bottle.
Watch Out for Ghosts in the Old Melbourne Gaol
Do you believe in ghosts? You might start to after a night-time experience at the old Melbourne Gaol. The 1800s Gaol has a dark history of housing some of the most notorious criminals in Australian history, including the bushranger Ned Kelly. 133 people were hung within the thick stone walls of the gaol. This ghostly tour is conducted in the dark and isn't recommended for children – which gives you an idea of how creepy it can be! Tours run on various nights of week and last one hour, with bookings required ahead of time.
Enjoy an Open Air Cinema Experience
For Melbourne film buffs, an essential night life experience in the city is watching a movie at the famous Rooftop Cinema. Located in the middle of the city on the seventh level of Curtin House on Swanston Street, the cinema offers a summer program of both classic favourites and exciting new releases. The equally-well-known Rooftop Bar is on site, so you can enjoy a pre-movie drink or two while enjoying the views of the city skyline. Then pull up your deck chair and get ready to enjoy the big screen under the stars. There's food available for purchase, and if it starts to get a little chilly after dark, blankets to borrow as well.
Play Like a Kid Again at Strike
Fancy a bit of healthy competition on a night out? Strike at Melbourne Central offers everything you wish was included at your thirteenth birthday party: a massive light up bowling alley, epic escape room, adrenaline-filled laser tag, and even augmented darts – yes, really! It's the ultimate adult playground, with a full cocktail bar boasting your favourite drinks plus some house made favourites. See who in your group is the King or Queen on the lane with a round of ten pin bowling, then get your revenge in the incredibly designed laser tag arena. Solve riddles to beat the escape room, and test your skill on the virtual-powered dart board.
Wander the City Laneways
Sometimes one of the best things to do in Melbourne is to just wander the streets and enjoy the nightlife. Melbourne is famous for its laneways and street art, which can be enjoyed just as much after dark. Plus, you can be serenaded by buskers, tempted by delicious eateries and bars, and enjoy the people watching as Melbournians come out to play. Whether your night in Melbourne is coming to a close or the evening is just beginning, a walk through the city is the perfect idea.