Looking for great movie night ideas? If you're hosting a movie night at home, you need to be prepared with a great selection of movies, a comfy set up to rival Gold Class at your local cinema, and plenty of food to sustain you during a long night of movie watching!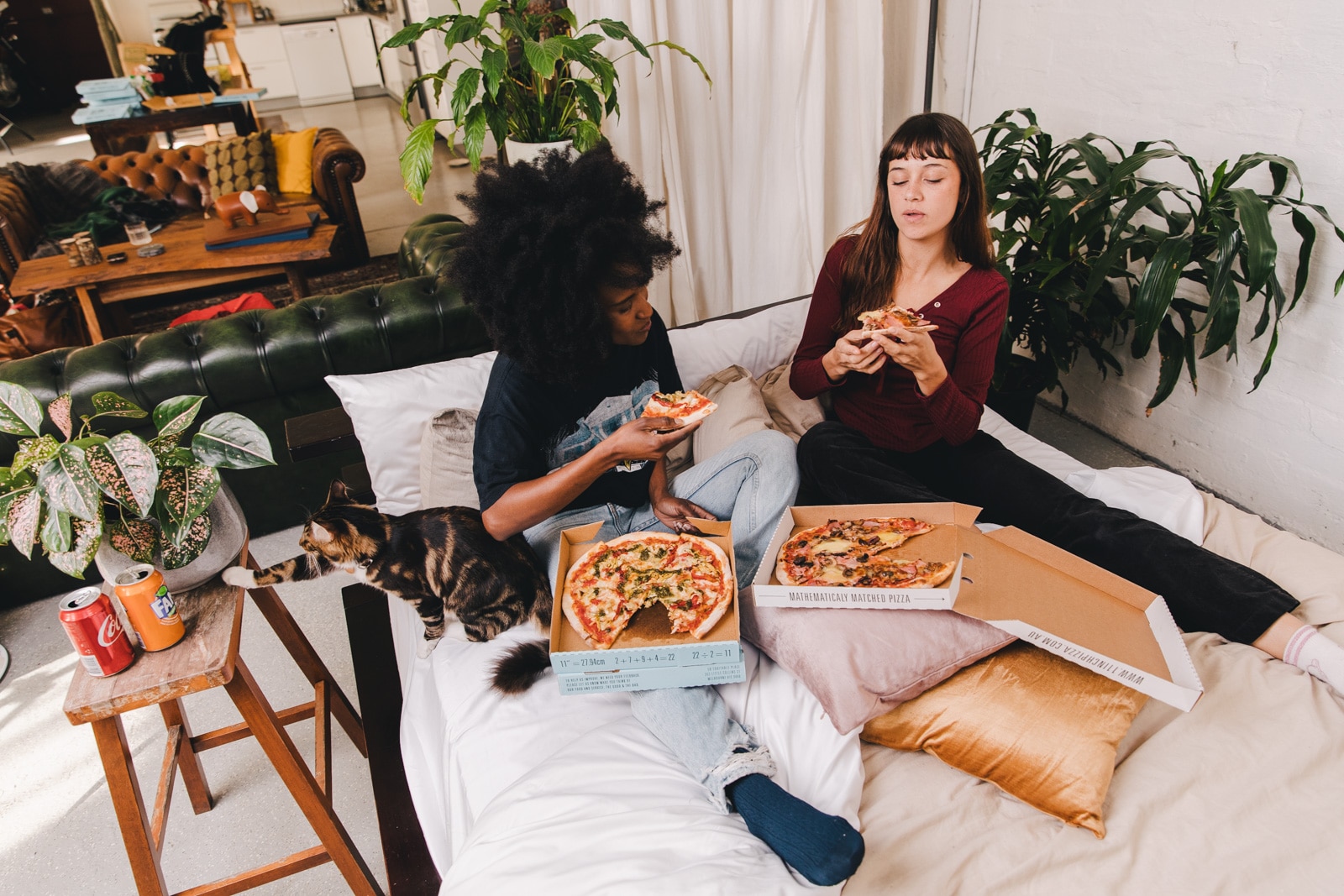 A night in front of the small screen can be the best way to spend an evening with friends and family. For the best movie night ideas at home, we have you covered.
Choose A Theme For Your Movie Night
Don't make this any old night watching the TV – this is going to be a movie night to remember! A great way to add a sense of gravitas and occasion to your at-home movie night is to choose a special theme for the evening.
Some of our favourite movie night theme options include:
Award winners. Watch the highlights of the Oscar and Golden Globe nominations and winners from the last season. This is a great way to see all those critically acclaimed films you missed out on when they were at the cinema. The best part is you can complain about how your favourite nominated actor got ripped off!
Classic favourites. Film buffs will love revisiting these old classics. Relive the magic of ground-breaking cinematic masterpieces like The Godfather, The Wizard of Oz and Casablanca.
Foreign films. Want to insert a little culture into your movie night? A list of great foreign films is a fun way to enjoy a themed evening – just don't miss the subtitles!
Living legends. Do you have a favourite actor that has appeared in heaps of great movies? Create your own list of their best work and watch their appearances back-to-back.
Christmas movies. Think this is holiday-season-specific? Think again! Christmas movies are fun at any time of year. Just be prepared for the inevitable argument about whether or not Die Hard should be included.
When it comes to your theme, don't stop at the movie selection. Play around with incorporating the theme into your decorations, outfits and even your menu!
Create The Ultimate Movie Marathon Set Up
A great movie night at home requires more than just the usual squeeze onto the couch. For a movie night in to remember, turn your loungeroom into the ultimate movie marathon location with beanbags, blankets, cushions and more. You'll need a big TV and preferably surround sound for that true cinema experience. And if you're feeling really fancy, why not take the movie night outdoors with a projector against the side of your house! You can dress up your space with fairy lights and deck chairs to make it even more magical – it's like a cool outdoor cinema right outside your door.
Load Up On The Ideal Movie Snacks
Watching movies is hungry business! To keep everyone happy over the course of your at-home movie night, make sure you are well prepared with plenty of delicious movie snacks.
Ideally you want to provide a mix of sweet and savoury and keep things handheld and mess-free – because when you're watching the screen during a big action sequence, you don't want to be worried about your knife and fork slipping around your plate!
Some of the best snack options for movie night include:
Popcorn. This cinema favourite is a no brainer for home movie night, but you don't need to stick to the traditional butter and salt combo. Have a play with sweet popcorns like peanut butter caramel or fairy-bread flavours, or add a kick to the savoury classic with the addition of cheese and garlic powder.
Hot chips. Super snackable and a real crowd pleaser, you can't go wrong with a hot chip! Plus, these snacks are easy to either cook up from frozen in the oven or air fryer, or you can order in from a range of takeaway stores.
Cheese platter. For a classier movie night snack idea, opt for a delicious spread of chesses, deli meats, dips, crackers and more. A good cheese platter will keep people coming back all evening long.
Chocolates. Everyone loves a chocolate! Buying a big box of assorted chocolate varieties ensures there is something for everybody and the individual wrappers make sharing easy.
Forget Cooking – Make Dinner Easy And Order Pizzas!
No one wants to spend half of their movie night in the kitchen preparing food. Once you have your snacks organised, make life easy and order pizza for the main event!
Pizza is the ultimate crowd favourite, with flavours and toppings to suit absolutely everyone attending your home movie night. It's great for sharing, so you can try lots of different slices or commit to a single type. Plus, it's easy to cater for people with allergies and intolerances, as well as vegetarians and vegans.
11 Inch Pizza offer delivery and pick up of delicious takeaway pizzas made with love by our chefs. Order your movie night pizzas today!