Hosting a pizza party at home? Or maybe a kids birthday pizza party? Or even an office pizza party? Regardless of the occasion, make it a night to remember with an amazing spread of pizzas and the perfect atmosphere to enjoy them. From the drinks to the music, we have all the tips you need to throw the best pizza party.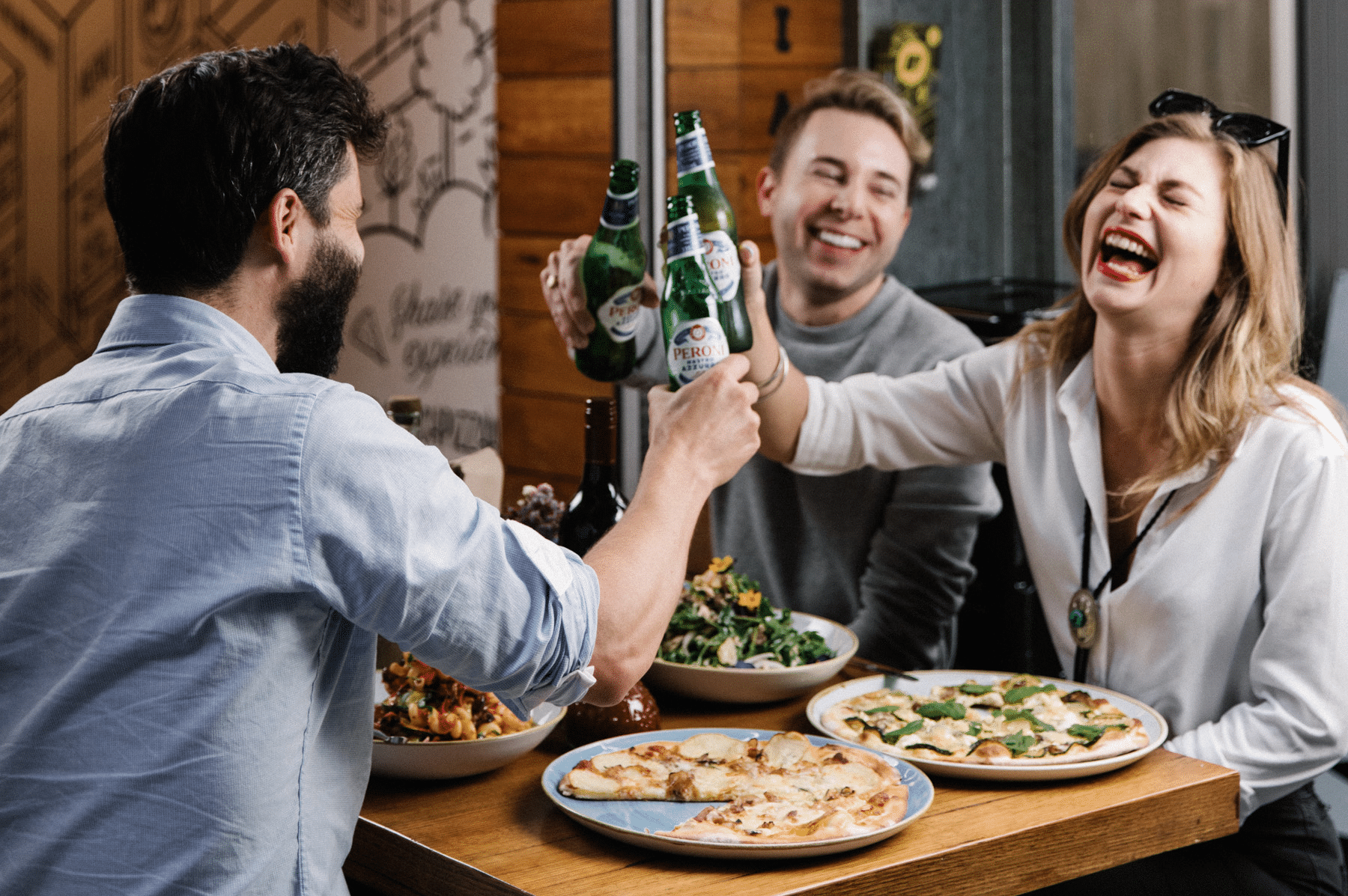 Choose a Great Range of Pizzas
The secret to an amazing pizza is high quality, fresh ingredients on a deliciously chewy base. Make sure you select a good spread of different pizza types that are going to cater for everyone's taste buds.
A good rule of thumb is the equivalent of one pizza per person, but the beauty of pizza is that you don't have to limit yourself to a single flavour – share the love and swap slices to have a try of everything! It's a good idea to choose some heavier pizzas (such as the Meat Feast or Gambero) as well as a few lighter options (like the Margherita or Ricotta).
Don't Forget Drinks
When you're eating tasty pizzas, you need some nice beverages to wash them down. There are plenty of options to choose from when it comes to picking drinks for your pizza party.
Soft drink – a favourite match for pizza, soft drinks add a sweet and fizzy edge to your savoury pizza dinner.
Wine – if it's an adults only event, you may like to choose a few bottles of wine to go with your pizza. White wine pairs nicely with chicken and seafood based pizzas, while red wine the perfect match for red meats and roasted vegetables.
Beer – pizza and beer is a favourite combination for lots of people, and there's lots of beers to choose from!
Cocktails – get the party going by experimenting with some fun cocktail recipes, like fruity punch. Mocktails are a great option for non-drinkers.
Water – don't forget to stay hydrated with plenty of water on hand!
Provide Lots of Comfy Seating
While pizza is easy to eat one handed and can be consumed standing up, it's much more relaxed to sit down and chill out with your favourite slice. Whether you want to sit around the table for your pizza dinner, or sprawl out on the couch in front of a good movie, make sure there is plenty of spots for everyone to get comfortable!
Set the Mood with Some Music
Whether your pizza party is a full on dance off or a more low key evening, you're going to need some music to suit the mood. Set up a playlist ahead of time with all of your favourite tracks, and don't be afraid to let your guests request their own songs as well. It could turn into a karaoke event by the end of the night!
Invite Your Best Friends
The best part about pizza? It's made to be shared with the people you love! And because pizza is so versatile, you can easily choose a range of pizzas to suit everyone's tastes and dietary requirements. Have a few vegetarians and vegans in the group? There are heaps of delicious plant-based pizzas to try (and they're so delicious, they will convert even dedicated meat lovers!). Need to skip the dairy for your lactose-intolerant friend? Pick a pizza with lactose-free cheese instead. Want to turn your favourite slice into a gluten-free option? No problem at all!