Happy World Pizza Day!
To celebrate World Pizza Day on Sunday 9 Febraury, buy 1 pizza & get 1 FREE Margherita.
How to Redeem:
ORDER HERE and select your pizzas
Add the MARGHERITA pizza to your order
Enter the promo code: P11ZZA
Please Note:
This offer does not apply to any of 11 Inch Pizza's Value Deals.
Available for In-Store Pick Up only.
Orders must be placed online via the 11 Inch Pizza website: https://www.11inchpizza.com.au.
Limit of one free Margherita pizza per customer.
Offer valid only on Sunday 9 February 2020.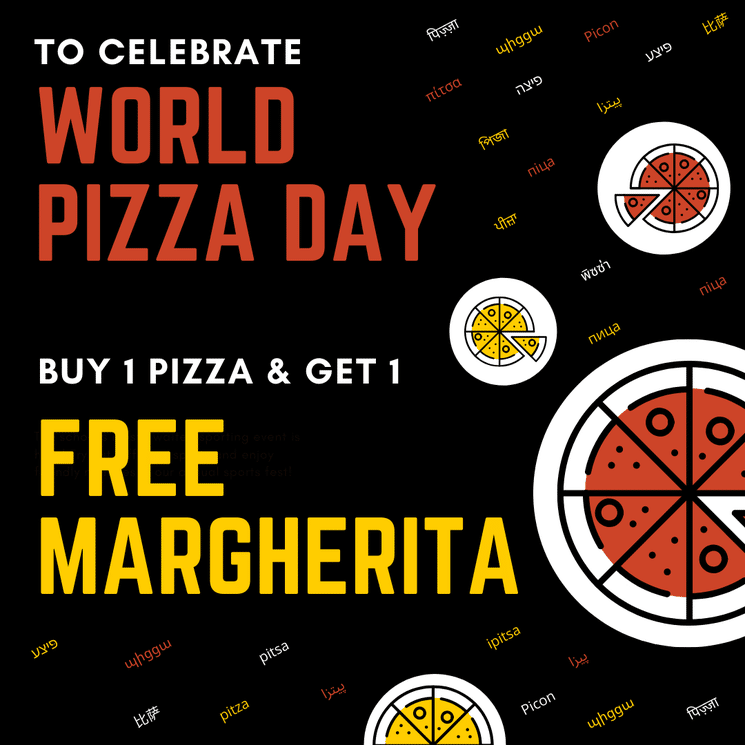 Every year, World Pizza Day is celebrated on the 9th of February. It's a day to appreciate and enjoy the universally loved dish. Whether you decide to spend the day making pizza or go out with your family and friends to your favourite pizza restaurant, February 9th is the perfect day to eat as much pizza as you want guilt-free.
Do you prefer the minimalism of a Margherita Pizza? Or do you think that more is more and like to add every topping imaginable to your pizza? No matter what your favourite kind of pizza is, pizza lovers worldwide stand in solidarity on World Pizza Day.
History of World Pizza Day
No one actually knows when the inaugural World Pizza Day happened, but we do know a fair bit about the history of pizza itself, which you could argue was the true beginning of World Pizza Day.
Crude pizza prototypes date back as far as the Ancient Egyptians, Romans and Greeks, who made and consumed basic flatbreads with simple toppings. The Greeks' version of this dish, which was topped with herbs and oil, closely resembles modern-day focaccias.
However, a more recognisable version of pizza was developed in the city of Naples. The small city, which as a Greek settlement that was established around 600BC and was independent from the rest of Italy, is said to have developed the dish because it was inexpensive, filling and could be eaten quickly. This was important because, in the 1700s and 1800s, the waterfront city of Naples was known for its abundance of poor workers.
These pizzas were sold by street vendors and informal restaurants and could be eaten for any meal. Different toppings gradually began to develop and many of the ingredients used hundreds of years ago are still enjoyed on pizza today, including tomatoes, cheese, oil, garlic and anchovies.
Legend states that pizza began to spread to the rest of Italy in 1889 when Naples was paid a visit by Queen Margherita and King Umberto I. According to folklore, the Queen tried the local humble dish and adored it, finding it refreshingly simple compared to the rich French food that was popular amongst upper class Europeans at the time.
Consequently, the Queen summoned one of the most famed pizza-makers of Naples, Raffaele Esposito, and requested that he come up with three new pizza toppings for her. The most iconic of these three was named after the Queen and is now known as the Margherita. As you probably know, the Margherita pizza features the colours of the Italian flag: red tomato, white mozzarella and green basil.
Nowadays, pizza has spread beyond Italy's borders across the world and can be enjoyed in pretty much every city and country around the globe. While different nations and different regions may have slightly different pizza-making traditions and recipes, they all share Neapolitan roots.
How to Celebrate World Pizza Day
World Pizza Day only comes around once a year, so you may be wondering what the most appropriate way of celebrating it is. Well, the truth is that there's not real wrong way to celebrate – as long as you're eating pizza, of course.
Here are some of our favourite ideas for how to celebrate.
Have a Pizza Party
If you have a special occasion that coincides with World Pizza Day – or maybe you just want an excuse to have a party – why not have a pizza party? Whether it be with friends, family or even during lunch at the office, a pizza party is a great way to celebrate any occasion or even just boost morale.
Make Pizza from Scratch
Whether you're a pro at making pizza or an absolute beginner, there's no better day to make pizza than World Pizza Day. Go the extra mile by making your own pizza dough from scratch – just make sure you knead it to perfection and don't skimp on any of the important ingredients.
The best part about making your own pizza is that you have complete freedom over topping choices. Whether you opt for more traditional toppings or more out of the box ones, there's no right or wrong when it comes to making pizza at home.
Visit 11 Inch Pizza
Enjoying the best pizza in Melbourne at 11 Inch Pizza. There's pretty much nothing in the world we love more than pizza, so it makes sense that World Pizza Day is our favourite day of the year.
Come visit our restaurant on Little Collins Street and we can treat you to a delicious meal with friendly service. If you'd rather enjoy your pizza from home, we also have take-away and delivery options available.